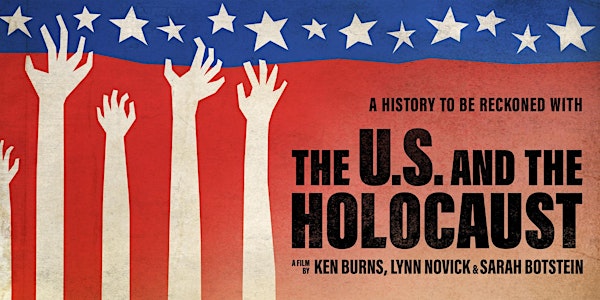 Screening of The U.S. and the Holocaust
The documentary explores the U.S.'s response to one of the greatest humanitarian crises in history.
When and where
Location
St. Louis Kaplan Feldman Holocaust Museum 36 Millstone Campus Drive St. Louis, MO 63146
About this event
Please join Nine PBS and the St. Louis Kaplan Feldman Holocaust Museum for a screening of clips from The U.S. and the Holocaust, a film by Ken Burns, Lynn Novick, and Sarah Botstein, and a panel discussion on the film and St. Louis's representation in it at the newly renovated museum.
Holocaust historian and author Rebecca Erbelding, PhD, William Levine Family Institute for Holocaust Education and United States Holocaust Memorial Museum who was featured in the docuseries, will be one of the panelists.
Please note event terms and conditions: Ticket is valid only for the event date and time listed on the ticket. Every person, regardless of age, must have a ticket to enter. The ticket holder voluntarily assumes all risk and danger incidental to the event for which this ticket is issued, whether occurring before, during, or after the event. Nine PBS may photograph and record portions of this event for promotional purposes. By registering for this event, you grant permission for your image to appear in a public media production and in print and digital materials.

Funding for The U.S and the Holocaust was provided by: Bank of America; David M. Rubenstein; The Park Foundation; The Judy And Peter Blum Kovler Foundation; Gilbert S. Omenn and Martha A. Darling; The Arthur Vining Davis Foundations; and by the following members of the Better Angels Society: Jeannie And Jonathan Lavine; Jan And Rick Cohen; Allan And Shelley Holt; The Koret Foundation; David And Susan Kreisman; Jo Carole And Ronald S. Lauder; Blavatnik Family Foundation; Crown Family Philanthropies honoring the Crown and Goodman Families; The Fullerton Family Charitable Fund; Dr. Georgette Bennett and Dr. Leonard Polonsky; The Russell Berrie Foundation; Diane and Hal Brierley; John and Catherine Debs; Leah Joy Zell and The Joy Foundation. Funding was also provided by The Corporation for Public Broadcasting and by public television viewers.
The U.S and the Holocaust is a production of Florentine Films and WETA Washington, D.C. Directed by Ken Burns, Lynn Novick and Sarah Botstein. Telescript by Geoffrey C. Ward. Produced by Sarah Botstein, Lynn Novick, Ken Burns and Mike Welt. Edited by Tricia Reidy, ACE and Charles E. Horton. Co-Producer is Lucas B. Frank. Original music produced by Johnny Gandelsman. Cinematography by BuddySquires, ASC and Wojciech Staroń, PSC. Narrated by Peter Coyote. Voices include Adam Arkin, HopeDavis, Paul Giamatti, Olivia Gilliatt, Elliott Gould, Murphy Guyer, Werner Herzog, Josh Lucas, Carolyn McCormick, Joe Morton, Liam Neeson, Matthew Rhys, Meryl Streep, Bradley Whitford, and HelenaZengel. The Executive in Charge for WETA is John F. Wilson. Executive Producer is Ken Burns.