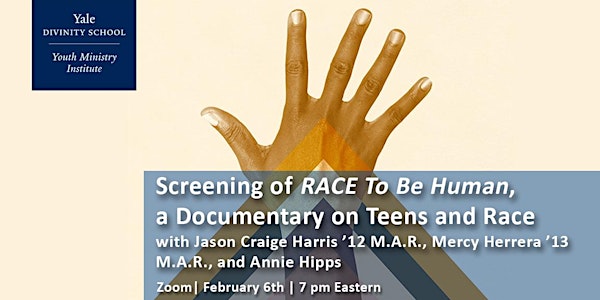 Screening of RACE To Be Human, a Documentary on Teens and Race
Screening of RACE To Be Human, a Documentary on Teens and Race
By Yale Youth Ministry Institute
Date and time
Monday, February 6 · 4 - 7pm PST
About this event
Zoom | February 6 | 7 pm Eastern
YMI has partnered with IndieFlix to present a virtual film screening of RACE To Be Human, a 45-minute documentary that looks at race from teenagers' perspectives. The screening will be followed by a panel discussion with some of those involved in the creation of the film, including YDS alum Jason Craige Harris '12 M.A.R.
RACE to Be Human is a powerful doorway into a courageous conversation about something that impacts all of us––race. You will meet people of all ages––especially young people––from different regions who openly wrestle with how and why we are so separated from each other, the impact of those divisions, and what we can do to heal ourselves and others.
We have secured the rights for participants to further share the video and use the accompanying educational materials within their ministry contexts. These resources are limited to a select number of participants, and will be available on a first-come, first-serve basis.
Jason Craige Harris '12 M.A.R. is a Managing Partner at Perception Strategies, a consulting firm working with institutions around the world to promote empirically grounded solutions to gaps in dignity, equity, and belonging. He also serves as a Senior Advisor at Perception Institute, a research consortium prioritizing equity in social systems. In addition, Jason serves as a consultant at Pollyanna, a national organization working to promote racial literacy and cultural competency. He is also the Principal of JCH Consulting LLC.
Mercy Herrera '13 M.A.R. has been a in education for the past decade. She's been an educator, teacher trainer, school leader, and educational advocate for staff and students. She is passionate about coaching and supporting teachers to reach their personal and professional goals. Through dynamic and well executed professional development, Mercy empowers teachers with new information and impactful learning experiences. A specialist in team development, Mercy facilitates group engagements that leave colleagues feeling refreshed and energized with renewed vision and purpose. Mercy trains teachers on to combine a data-driven approach with a focus on social-emotional learning to drive better student outcomes. She works has to support teachers in creating and sustaining environments that are inclusive and holistic.
Annie Hipps is from Seattle, WA and is currently attending the University of Michigan in Ann Arbor, MI, where she is a double major in Psychology and Communications. She is very passionate about having difficult conversations and learning by talking to people. As a white woman in America, Hipps has learned through her experience at school what that means. In eighth grade, she was educated on the finer details of American history then she ever had at school or at home. This is when she started to understand the importance of using her voice and place of privilege.
About the organizer
The mission of the Yale Youth Ministry Institute at Yale Divinity School is to promote adolescent faith and flourishing in a diverse and changing world by conducting scholarship, equipping leaders, and resourcing collaborative communities in and beyond Christian churches.