Screening of "Mid-August Lunch", by Gianni Di Gregorio

Tuesday, February 26, 2013 from 6:00 PM to 8:00 PM (CST)
Event Details
The Director of the Italian Cultural Institute
Silvio Marchetti
is pleased to invite you to 
the screening of
 Mid-August Lunch
[Pranzo di ferragosto]

  2008, 75 min 
by Gianni Di Gregorio
with Gianni Di Gregorio, Valeria De Franciscis, Marina Cacciotti, Maria Calì, Grazia Cesarini Sforza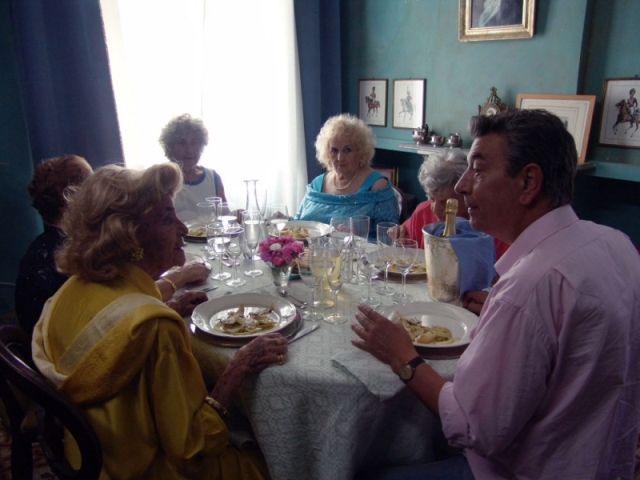 Tuesday, February 26th

6pm
Italian Cultural Institute
500 N Michigan Avenue, Suite 1450
Chicago, IL 60611
In Italian with English subtitles.  Light refreshments will be served.
Reservations kindly suggested. 

Please click here to see all of the Institute's upcoming events.
*

The charismatic Gianni Di Gregorio (co-writer of the smash hit Gomorrah), stars in his directorial debut - an utterly charming tale of great food, feisty ladies and unlikely friendships during a very Roman holiday. Broke, and armed with only a glass of wine and a wry sense of humor, middle-aged Gianni resides with his 93-year-old mother in their ancient apartment. The condo debts are mounting, but if Gianni looks after the building manager's mother during the Pranzo di Ferragosto (Italy's biggest summer holiday, and the Feast of the Assumption), all will be forgiven. Then the manager also shows up with an auntie, and then a doctor friend appears with his mother in tow.... Can Gianni keep four such lively mamas well fed and happy in these cramped quarters?

Winner of numerous prizes at international festivals, including Best First Film at Venice and the Satyajit Ray Award at London, plus the Golden Snail at the Academy of Food and Film in Bologna, Mid-August Lunch is both warmly vibrant family drama and delicately balanced comedy of manners.
Organizer
Italian Cultural Institute of Chicago
Italian Cultural Institute of Chicago
500 N Michigan Ave., Suite 1450
Chicago, IL 60611
Currently active in all the major cities of the five continents, the ninety Italian Cultural Institutes serve as an ideal meeting place for intellectuals, artists, and cultural operatives, as well as for ordinary citizens, both Italian and foreign, who wish to establish or maintain a relationship with our country. By acting not only as a showcase and source of current information on Italy, but also as a driving force behind initiatives and projects of cultural cooperation, the Italian Cultural Institute has become a focal point for both the Italian communities abroad and the growing demand for Italian culture throughout the world.

By extending the role of Embassies and Consulates, the Italian Cultural Institutes offer the most effective tools for promoting a worldwide image of Italy as a center of production, preservation, and dissemination of culture from the Classical Age until today. Along with organizing cultural events in a vast array of areas, including art, music, cinema, theatre, dance, fashion, design, and photography, the Italian Cultural Institutes:


Offer the opportunity to learn Italian language and culture through the organization of courses, the management of libraries and the preparation of educational and editorial materials;
Provide the networks and the premises to facilitate the integration of Italian operators in the process of cultural exchange and production at an international level;
Provide information and logistic support to public and private cultural operators, both Italian and foreign;
Continuously support initiatives aimed at promoting an intercultural dialogue based on the principles of democracy and international solidarity.
Screening of "Mid-August Lunch", by Gianni Di Gregorio