Screening of Maker, the documentary

Sunday, March 22, 2015 from 1:30 PM to 3:00 PM (CDT)
Event Details
In Dallas for the 1st time!
Maker is a feature documentary looking into the maker movement in America reforming the economy with a new wave of Do-It-Yourself and Do-It-Together. Financed through crowdfunding, it has become a tremendous success with outstanding reviews from the Harvard Business Journal and has been featured in over 100 screenings in 40 countries. It is time to bring this screening to Dallas! For the first time ever in DFW, KidStarter will be hosting an exclusive screening at Studio Movie Grill - Spring Valley to over 100 lucky guests.
#NationOfMakers
"This is a country that imagined a railroad connecting a continent, imagined electricity powering our cities and towns, imagined skyscrapers reaching into the heavens, and an Internet that brings us closer together.  So we imagined these things, then we did them.  And that's in our DNA.  That's who we are.  We're not done yet.  And I hope every company, every college, every community, every citizen joins us as we lift up makers and builders and doers across the country"
President Obama
Remarks at the White House Maker Faire, National Day of Making on June 18, 2014
Please note the following:
Admission: All kids under the age of 5 years old will not be charged
Food: Studio Movie Grill has been so kind to host the documentary for us, that we ask you come earlier and order lunch to help us show appreciation for their generousity! The screening will start promptly at 1:30pm.
Length of the documentary: Maker is about 75 minutes long.
Proceeds: While this screening is hosted at Studio Movie Grill, all proceeds will go towards KidStarter. Therefore, no Groupons for SMG will be accepted.
Why is KidStarter hosting this screening: KidStarter is a community-driven educational program designed to bring the maker out of every child. The program uses the foundations of Science, Technology, Engineering, and Mathematics (STEM) to educate children how to take a kit of raw ingredients and apply creativity, problem solving, and logic to build a physical product.  Focused on kids from ages 7 and above, these DIY workshops provide a safe and fun environment for kids to explore their natural curiosity and geek out. We are currently crowdfunding on Indiegogo so we can expand into new cities and build a mobile app. You can learn more about our crowdfunding campaign here.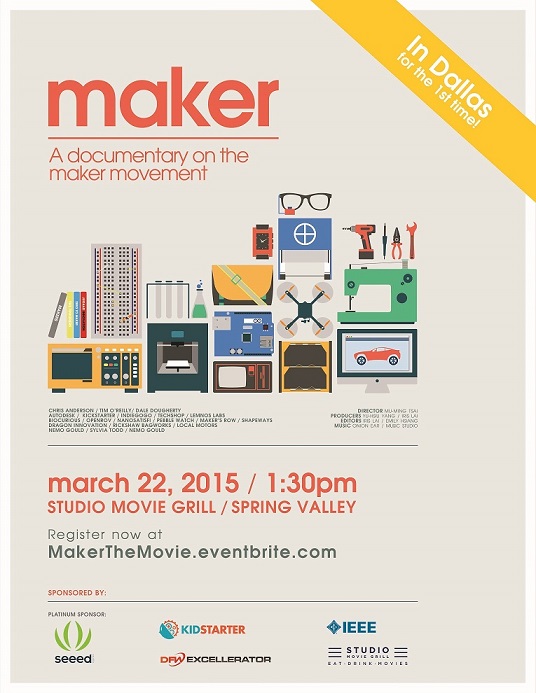 When & Where

Studio Movie Grill
13933 N Central Expy
Dallas, TX 75243


Sunday, March 22, 2015 from 1:30 PM to 3:00 PM (CDT)
Add to my calendar