Screening of CHOSEN with Director Dallas Jenkins
Description
The Chosen is a multi-season drama about the life of Christ that invests in the characters that Jesus encountered, giving them and their stories fresh life and backstory. This screening is for the first episode.
The Chosen series has raised nearly $9 million, becoming one of the largest crowdfunding projects among TV shows and setting a new model for funding according to The Hollywood Reporter.
Chapel credit avaialble for Biola students.
View The Chosen trailer by clicking here.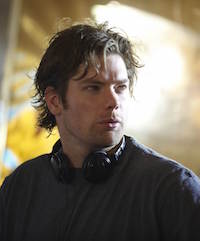 Dallas Jenkins has been creating movies since the age of 25. His first film was Hometown Legend distributed by Warner Brothers. He co-executive produced of Though None Go With Me, for the Hallmark Channel. He directed and produced Midnight Clear that is currently available on DVD from Lionsgate. His next feature was What If... followed by The Resurrection of Gavin Stone, starring Brett Dalton, Anjelah Johnson, and WWE Hall of Famer Shawn Michaels, produced and distributed to theaters with Blumhouse Entertainment, WWE Studios, and Walden Media.
Currently he is developing and producing The Chosen, a new streaming series based on the life of Christ. The first episode is now available for streaming on VidAngel.
Q&A Panel Following the Screening
The Q&A will explore the making of the series, the highs and lows of raising millions through crowdsource funding and maintaining biblical accuracy in a drama.

Panelists: Dallas Jenkins, Director; Gary Lindblad, Moderator, Dean, Crowell School of Business; Doug Huffman, Project Consultant, Associate Dean of Biblical and Theological Studies; and Abel Vang, Assistant Professor of Entertainment Producing
Location
Mayers Auditorium, Marshburn Hall, Biola University, 13800 Biola Ave, La Mirada, CA 90638
Register now for your free ticket.