Screening - New York Says Thank You Documentary

Multiple Dates
Event Details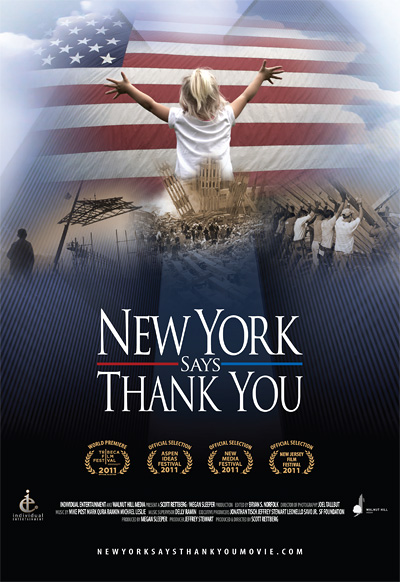 Join the NYC Citizen Corps Council for a complimentary screening of New York Says Thank You at Anthology Film Archives on Saturday, June 2 (1 PM), Sunday, June 3 (6 PM), and Monday, June 4 (7 PM).
New York Says Thank You is an epic story of healing and patriotic heroism that charts the journey of four New Yorkers whose lives were touched by September 11 —as they travel the country to help communities rebuild after their own disasters. Along the way, these individuals grow, face their emotions, and ultimately triumph over tragedy through an amazing community effort that evolved from a five-year-old New York City boy's idea to help others.
This feature-length documentary film casts a hopeful light in the shadow of the tragic day as, every September; New Yorkers are joined by an ever-growing group of disaster survivors and volunteers from around the country to pay forward the support they once received.
For additional information about New York Says Thank You, visit www.newyorksaysthankyou.org or www.newyorksaysthankyoumovie.com.  For additional information about the NYC Citizen Corps Council, visit www.NYC.gov/citizencorps.
--------------------------------------------------------------------------
Doors open 30 minutes prior to start time.  A limited number of seats may be available one hour prior to the start time at the box office.  Limit two tickets per person.
Organizer
NYC Citizen Corps
NYC Citizen Corps is a community readiness program for nonprofit and locally based organizations.  Build your capacity to prepare for and respond to emergencies by joining our network. Gain access to: training and events, tools and resources and citywide preparedness initiatives.
Membership is free. Learn more by visiting nyc.gov/citizencorps or calling 311 (212-639-9675 for Video Relay Service, or TTY: 212-504-4115).
 NYC Citizen Corps distributes a weekly newsletter that includes information about preparedness initiatives, resources and local events. During emergencies, the Communications Network is also used to disseminate important alerts and updates.
Get Informed: Join the NYC Citizen Corps Communications Network
Screening - New York Says Thank You Documentary