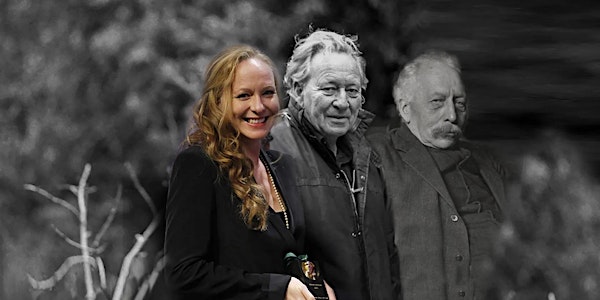 SCREENING: Bateson Anniversaries Conversation
SCREENING of Bateson Anniversaries Conversation
About this event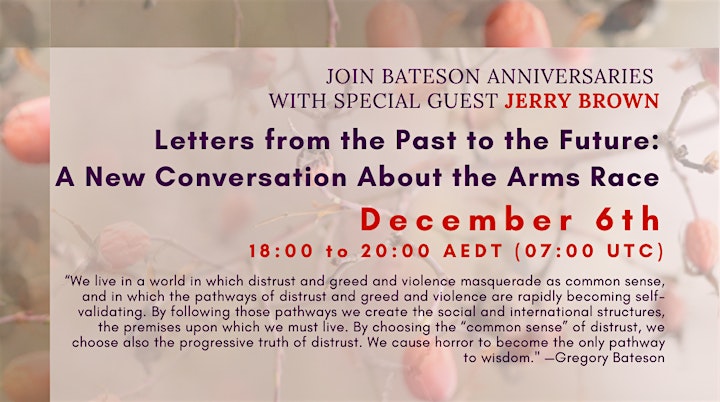 Join us for a screening of the ninth session of the 50th Anniversary of Steps to an Ecology of Mind series.
The Zoom link for this event will be sent in the order confirmation as well as the reminder emails closer to the date.
Please share the event with your friends, family and colleagues. Everyone is welcome!
Although this session is scheduled for two hours, it may end up being a bit longer.
These anniversary conversations are hosted by Nora Bateson, International Bateson Institute, & Bateson Idea Group. The special guest for this session is Jerry Brown, former Governor of California.
In the summer of 1979, Gregory Bateson wrote a series of letters to the Regents of the University of California (at that time, Gregory was himself a regent) to express why he did not support the University's involvement in nuclear weapons research. Bateson resigned from the Special Research Projects committee in 1979 as a result.
Gregory Bateson famously stated:
"We live in a world in which distrust and greed and violence masquerade as common sense, and in which the pathways of distrust and greed and violence are rapidly becoming self-validating. By following those pathways we create the social and international structures, the premises upon which we must live. By choosing the "common sense" of distrust, we choose also the progressive truth of distrust. We cause horror to become the only pathway to wisdom."
Other Bateson / Warm Data opportunities in which you may like to participate:
Find out more about:
To be notified of more events by the Bateson Ideas Group please click "Follow" at the top of this page under the event title, or under the Organiser description below.