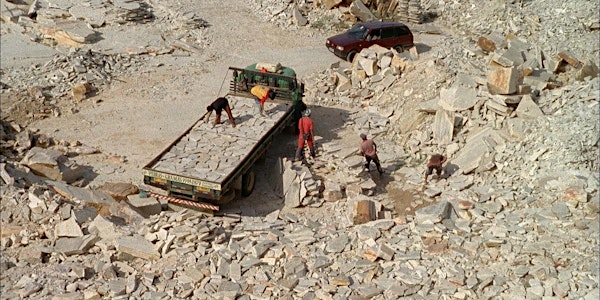 Screening: Ana Vaz, Oraib Toukan, Deimantas Narkevičius, Martha Rosler
Followed by an in-person discussion with Deimantas Narkevičius and Martha Rosler
When and where
Location
e-flux 172 Classon Avenue Brooklyn, NY 11205
Refund Policy
Contact the organizer to request a refund.
Eventbrite's fee is nonrefundable.
About this event
Join us at e-flux Screening Room on Tuesday, January 31 at 7pm for a screening of Ana Vaz's The Age of Stone (2013), Oraib Toukan's Palace of the Slave (2017), and Deimantas Narkevičius's Europa 54 54′-25 19′ (1997), and Martha Rosler's Chile on the Road to NAFTA, Accompanied by the National Police Band (1997), followed by an in-person discussion with Deimantas Narkevičius and Martha Rosler.
The screening constitutes the third event of "Landscapes To Be Deciphered," the second chapter of the four-part series Aesthetics of Resistance: Straub-Huillet and Contemporary Moving-Image Art taking place at e-flux Screening Room in monthly chapters between December 2022 and March 2023. Read more on the series here.
Aesthetics of Resistance: Straub-Huillet and Contemporary Moving-Image Art is produced and organized by e-flux; with the support of the German Film Office, an initiative of the Goethe-Institut and German Films. e-flux would like to thank the Lithuanian Cultural Institute and Gražina Michnevičiutė, Lithuanian Cultural attaché in New York, for their additional support in organizing this screening.
Films
Ana Vaz, The Age of Stone (2013, 29 minutes)
"Brasília is artificial, as artificial as the world must have been when it was created." (Clarice Lispector)
A voyage into the far west of Brazil leads us to a monumental structure—petrified at the center of the savannah. Inspired by the epic construction of the city of Brasília, the film uses this history to imagine it otherwise. Through the reading of geological traces, the film unearths a history of exploration, prophecy, and myth that encourages us to rethink the dangers of constructing the future. A journey into unknown territory in Brazil leads us to discover a monumental structure and immerses us in the forms and texture of stone. This film, inspired by the construction of the country's modern capital, is a science-fiction documentary, an astonishing object standing between the cinema of Glauber Rocha and the visual arts. A visionary vertigo that will take your breath. (Visions du Réel, 2014)
Oraib Toukan, Palace of the Slave (2017, 9 minutes)
Palace of the Slave departs from the open mouth of a sculpted lion and a cub's gaze. It takes a Hellenic ruin in Jordan to compare pixel to strata and to analyze the mechanics of gazing at the digital representation of ruin, via historical record.
Deimantas Narkevičius, Europa 54 54′-25 19′ (1997, 8 minutes)
"One Friday morning I got the urge to go and see the center of Europe." (Deimantas Narkevičius)
Chile on the Road to NAFTA, Accompanied by the National Police Band (1997, 10 minutes)
A bouncy music-video burlesque shot in and around Santiago, Chile, entwines reminders of U.S. corporate presence and of past political terror, with national and international musical strains. Chile, at the southernmost end of South America, was in 1997 on the fast track to admission into the economic alliance known as the North American Free-Trade Agreement (NAFTA). Chile was enjoying its reputation abroad as a free-market success—a reputation promulgated by those who aided or supported the fascist coup led by General Augusto Pinochet, which had violently overthrown the elected government in 1973 and which led to the deaths of the President, Salvador Allende, and thousands of others, and the exile of tens of thousands of political refugees. To the strains of The Blue Danube Waltz, a taxi drives down a back road, passing a horse-drawn cart and a gigantic upraised fist that turns out to be a Coca-Cola billboard. Warships are seen from a hilltop in Valparaíso, the home of the coup; a newly unveiled memorial to coup victims is viewed by visitors to the cemetery in which it is located. Back in Santiago's festive town square, members of the national police's "Odeon" band play a Star Wars medley, while a tot in military uniform dances to the music. Away from the square, a blind singer mourns lost love in front of a row of shuttered shops, and Indian schoolchildren listen to men playing a folk tune on Andean pipes. At the airport, a boy stealthily caresses a lit-up Coca-Cola sign. The video's drive-by style suggests the thematic backdrop of tourism and internationalizing elites versus the indigenous poor. For those whose historical memory needs jogging, a short epilogue details the 1973 coup and its aftermath.
Ana Vaz (b. 1986, Brazil) is an artist and filmmaker who works with cinema as a tool. Her films, or rather her film-poems, travel through territories and events haunted by the perennial consequences of internal and external forms of colonialism, and their footprints on the earth as well as on human and other-than-human forms. Her practice can also take the shape of writing, critical pedagogy, installations, film programs, or ephemeral events, which are expansions or developments of her films. Her works have been presented at film festivals, seminars, and institutions such as Locarno Film Festival, Berlinale Forum/Forum Expanded, New York Film Festival - Projections, TIFF Wavelengths, BFI London, Cinéma du Réel, Tate Modern, Palais de Tokyo, Jeu de Paume, Pivô, LUX Moving Images, Tabakalera, Whitechapel Gallery, MAM – Museum of Modern Art São Paulo, Jameel Arts Center, among others. Vaz is also a founding member of the COYOTE collective along with Tristan Bera, Nuno da Luz, Elida Hoëg and Clémence Seurat, an interdisciplinary group working between ecology and political science through conceptual and experimental formats.
Oraib Toukan is an artist and a post-doctoral EUME fellow at the Forum Transregionale Studien, Berlin. Using post-production as a medium, she is currently working with photography, film, and speech to study representations of encounters with violence. Toukan holds a PhD in Fine Arts from Oxford University, Ruskin School of Art. Until fall 2015, she was head of the Arts Division and Media Studies program at Al-Quds Bard College, Palestine, and visiting faculty at the International Academy of Fine Arts, Ramallah. She is author of Sundry Modernism: Materials for a Study of Palestinian Modernism (Sternberg Press, 2017).
Deimantas Narkevičius (b. 1964, Lithuania) lives and works in Vilnius. Originally trained as a sculptor, Narkevičius tarted using film during the early nineties. Employing documentary footage, voice-overs, interviews, re-enactments, and found photographs, his films submit historical events to the narrative structures of storytelling and cinema. In his artistic practice Narkevičius examines the relationship of personal memories to political histories, particularly those of his native Lithuania. Eschewing the common features of contemporary documentaries, the central characters of Narkevičius's narratives are often absent from the screen, replaced by objects, drawings, and other surrogates.He has exhibited extensively around the world at including at Centre Pompidou (Paris), Museo Nacional Centro De Arte Reina Sofia (Madrid), Tate Modern (London), Museum of Modern Art (New York), Stedelijk Museum (Amsterdam), the 49th and 50th Venice biennials, and Manifesta II and X. In 2008, Narkevičius was awarded the Vincent Award and the Lithuanian National Prize for Culture and Arts, and in 2017, the National Gallery of Art in Vilnius held a major retrospective of his work.
Martha Rosler utilizes various media in her work, primarily video and photography, and also installation and sculpture; she also writes about art and culture. Her work has for decades considered matters of the public sphere and mass culture; war and geopolitical conflict; housing, urbanism, and the built environment, and systems of transportation—especially as these affect women. Many of her projects have been extrainstitutional or developed and enacted with groups of people. Rosler sees her work, her teaching, and her writing as continuations of a broader engagement with the currents of cultural critique and social and political change. Her work may best be summed up as both a conceptual art and an activist practice—focused on questions of representational form but joined, however uneasily, to a commitment to political agitation. Video, which she adopted in its infancy, presented itself as at the crossroads of both. Rosler spent the 1970s in California and Canada. In 1980, she returned to her native Brooklyn, where she lives and works.
For more information, contact program@e-flux.com.
Accessibility
–Two flights of stairs lead up to the building's front entrance at 172 Classon Avenue.
–For elevator access, please RSVP to program@e-flux.com. The building has a freight elevator which leads into the e-flux office space. Entrance to the elevator is nearest to 180 Classon Ave (a garage door). We have a ramp for the steps within the space.
–e-flux has an ADA-compliant bathroom. There are no steps between the Screening Room and this bathroom.