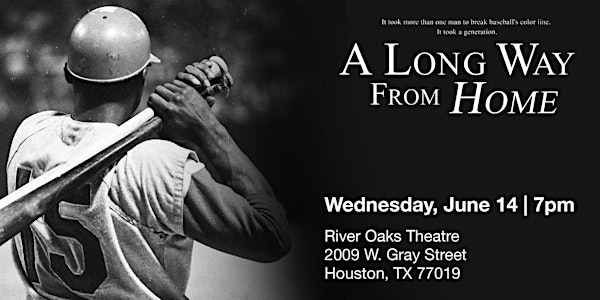 SCREENING | A Long Way from Home
When and where
Location
River Oaks Theatre 2009 W. Gray Street Houston, TX 77019
Description
Join us for the FREE screening followed by a Q&A with Gaspar González (Director), Matthew Frye Jacobson (Writer) with special guests J.R. Richard, Jimmy Wynn, Enos Cabell, Grover "Deacon" Jones, and Bobby Tolan, moderated by Houston's award-winning journalist and news anchor Melanie Lawson, at River Oaks Theatre June 14 at 7 p.m.
Directed by award-winning documentary filmmaker Gaspar González, A Long Way from Home: The Untold Story of Baseball's Desegregation chronicles the struggles and triumphs of the pioneering black and Latino players who followed Jackie Robinson into white professional baseball, often playing minor-league ball in small, remote towns where racial segregation remained a fact of life well into the 1960s.
The documentary features original, revealing interviews with James "Mudcat" Grant, Grover "Deacon" Jones, Jimmy Wynn, J.R. Richard, Tony Pérez and Orlando Cepeda. These former MLB stars endured challenges linked to racism on and off the field to pursue their big-league dreams – and in doing so, played a significant (and, until now, underappreciated) role in making America's pastime truly open to all.
Click here to view the trailer and learn more about the film. Share and invite friends and family using the social media links below.
This is a project funded by a grant from