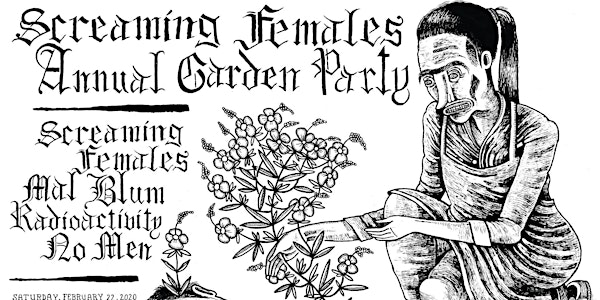 Screaming Females Annual Garden Party
Ages 16+
Presented by White Eagle Hall
New Jersey legends Screaming Females annual Garden Party grows in Jersey City in 2020. Joining them are Mal Blum, Radioactivity and No Men.
When and where
Location
White Eagle Hall 337 Newark Ave Jersey City, NJ 07302
Performers
Headliners
More Performers
Mal Blum
Radioactivity
No Men
About this event
"February can be a bleak time in NJ, both for the weather and music. Back in 2016, in an attempt to brighten things up a bit, we decided to throw a pair of shows at the wonderfully tiny Jersey City venue Monty Hall, run by the best radio station in the world, WFMU. The shows were a blast and we were surprised to see that a number of people came from out of town for the event. It was so much fun that we have done similar February NJ shows every year since then. It has become a tradition with people coming from all over the world to watch us play and hang in NJ for the weekend.
For 2020 we are excited to officially christen this tradition "Screaming Females' Annual Garden Party" and bring the event to a much bigger stage, Jersey City's White Eagle Hall. We've curated one hell of a rock show by inviting three of our favorite bands (Mal Blum, Radioactivity, and No Men) to share the stage with us for the evening. We expect this year to be another huge success and hope to be able to continue the Garden Party for many years into the future!" - Jarrett, Screaming Females