Description
Join IBM on May 12th at the IBM Hursley Park R&D site to meet, share, learn, and celebrate Scratch Day!
The day is a chance for children to make new things using Scratch or ScratchJr.
---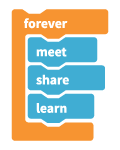 A variety of printed, detailed, step-by-step recipes for making projects will be available. Some, but not all, will include IBM Watson services to build Scratch projects using artificial intelligence.
Children will be invited to:

Choose one or more project worksheets that interest them, and follow the instructions to make something

Choose one or more project worksheets that interest them, but modify and tweak them as they go to make something different, inspired by an existing worksheet

Make something totally new of their own invention
Any of these are welcome - the only objectives for the day are for children to enjoy themselves, try to make something, and learn something.
---

Experienced Scratch developers will be available to support and advise throughout the day.
We welcome children of all ages to the event. Whether you are a newcomer or an experienced Scratcher, you will have a chance to learn more about Scratch, build something, and share your projects.
---

FAQs
What do we need to bring?
A packed lunch.
Who can come?
Any child aged 7 - 16, and their parent or guardian.
Do we need to register in advance to be able to attend?
Yes. (We need to know how many computers to prepare for you!).
What if we can't make it for 10am?
What if we have to leave before 3pm?
That's fine. We'll try to be flexible.
Children who arrive late will have a little less time to work on their project, but as long as they have enough time to make something, that's okay.
Children who need to leave early will be asked if they can explain their project to a volunteer who could demo it on their behalf after they've gone.
Please let us know, so we know when to expect you.
Will food or drink be provided?
No. Please bring your own.
Will computers be provided?
Yes.
Is there a charge for attending?
No.
Do parents/guardians have to stay?
Yes. Children under 16 must be accompanied by an adult.
Please request tickets for both children and adults so that we know who to expect.