SCRAP'S FAN EVENT-PUZZLE CONNECTION-Find your future puzzlemates!

Monday, March 14, 2016 from 7:00 PM to 10:00 PM (PDT)
Event Details
~ Back by popular demand! ~
The game has ended. You and your teammates share a look of satisfaction because you know you've ESCAPED! And it all started with Puzzle Connection.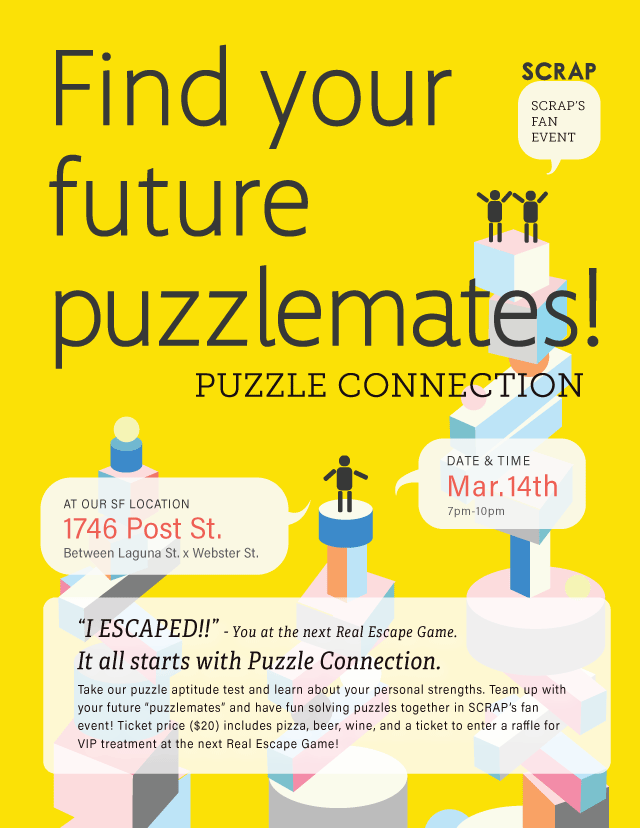 We are happy to announce that Puzzle Connection is returning!

Join us for a fantastic night of exploring your puzzle skills and meeting potential teammates for future games. Over the course of the evening, we'll take a "scientific" personality quiz, team up with "puzzlemates" and have fun solving puzzles together, then give participants the chance to vote for future Real Escape Game themes.


All participants will be entered into a raffle for VIP treatment at the next Real Escape Game. Pizza, beer, wine and pie (for Pi Day!) will also be provided.

This event is identical to the previous Puzzle Connection (Nov 2015). Please do not buy a ticket if you joined us last time.

Only 36 tickets will be sold for this round. Don't delay!


Date : Monday, March 14th, 2016 (a.k.a. Pi Day)
Time : 7:00pm doors open / 7:30 pm START!
Cost : $20 (food provided)
Venue : 1746 Post St. in Japantown, SF, 94115
*This is SCRAP'S fan event, NOT an actual "Real Escape Game."
*Since this is our "fan event," participants must have played a Real Escape Game by SCRAP before.
*Due to the serving of wine and beer, participants must be over 21 years of age.
When & Where

NEW PEOPLE building 1F
1746 Post Street
San Francisco, CA 94115


Monday, March 14, 2016 from 7:00 PM to 10:00 PM (PDT)
Add to my calendar
Organizer
SCRAP Entertainment Inc.
Headquaters: San Francisco
Real Escape Game™ is an interactive, brain-teasing event that pits players against the clock to uncover clues, solve puzzles and escape from a locked room or story scenario. In 2007, it was the world's first attempt at bringing digital escape games into real life and has since become a global phenomenon. Real Escape Games come in a variety of styles, with different game types designed to run in small rooms, stadiums, theme parks or even across an entire city. Over 3.3 million people have already played worldwide, but our goal is to continue expanding our audience and become a household name in live entertainment. With over 30 unique Real Escape Game editions in the US alone and even more abroad, SCRAP Entertainment has something for everyone.
SCRAP Japan, Headquartered in Tokyo, Japan, has been creating immersive and adventurous puzzle events. In 2007, it produced the world's first live action game, REAL ESCAPE GAME(REG) in Japan. REGs have been held in Japan and other Asian countries in unique places such as multiple schools, ruined hospitals, amusement parks, stadiums, and churches-and the events have built enthusiasm. In Japan, the series of TV drama, Real Escape Game TV and movies are released. SCRAP is pioneering the new genre of Real World Adventure, which has become a driving force in the world.
The first Real Escape Game in the U.S took place in San Francisco in 2012. Another San Francisco game took place on board a ship, which was a world-first. Also, since the opening the Real Escape Room, Escape from the Mysterious Room, over 6,000 people tried their luck at escaping in the first year. Despite the highly challenging difficulty of 2 % success rate, all tickets are continuously selling out. The events get popular among people who love something unique and cool. Real Escape Game™ is a registered trademark of SCRAP.
SCRAP'S FAN EVENT-PUZZLE CONNECTION-Find your future puzzlemates!