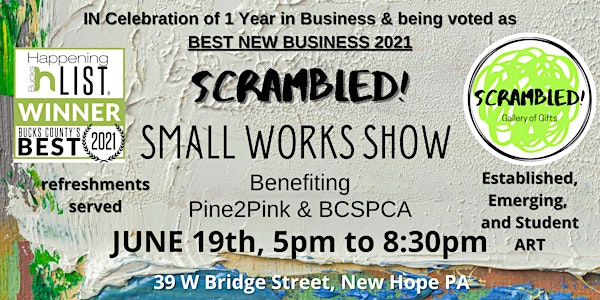 SCRAMBLED! SMALL WORKS SHOW to benefit BCSPCA & PINE2PINK- 1st Anniversary
Location
Scrambled Gallery of Gifts
39 West Bridge Street
New Hope, PA 18938
1st SMALL WORKS SHOW. The little shop with big heART is celebrating two awesome achievements by doing BIG things with small works!
About this event
What happens when you take 1 award winning business, 2 worthy causes, 40 inspired students from two amazing schools and top it off with 15 incredible emerging and established local and regional talented artists ? You get SCRAMBLED!
What's a better way to celebrate 1 year in business and being voted in April as the Bucks Happening BEST NEW BUSINESS 2021 than to give back to the Community that supported and voted for us?
Please join SCRAMBLED! as 100% of the proceeds from students' artwork and a portion of sales from 10 regional artists' work are donated it to benefit Pine2Pink ( a community based non-profit benefiting local breast cancer patients)
and Bucks County SPCA (which assists animals in need and prevents suffering through rescue, rehoming, cruelty investigation and prosecution, and community outreach)
The 40 students contributing art are from Buckingham Friends School in Lahaska PA and Painted Oak Nature School in Hopewell, NJ
The Emerging and Established Artists come from local artists and as far away as Philly and Wildwood NJ.
June 19th is the Reception and start of the sales. Join us on the deck that overlooks the serene Delaware Canal. The three other galleries that make up CANAL WALK STUDIOS will also be open till later that night with amazing art. Refreshments will be served!
The Show runs from June 19th to July 17th. WEEKENDS ONLY and some days by chance.