About this Event
As 2019 nears to a close, we want to celebrate a decade of all things new, creative, and experimental. Join us for a night of jaw-dropping art and performances, from otherworldly interactive games to a medley of bizarre encounters. Over the course of one unforgettable evening, celebrate the evolution of immersive art, music and technology.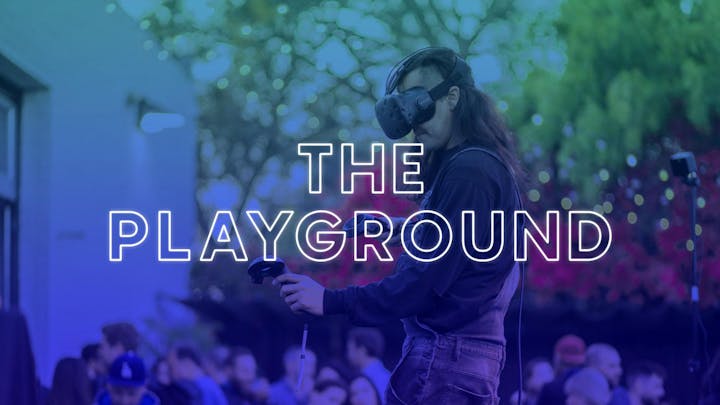 A curation of immersive experiences and interactive artwork.
The Under Presents by Tender Claws
Beach Body Bros by Tyler Hurd
Unceded Territories by Paisley Smith
A Life in Flowers by Armando Kirwin & Ryot
Cartoon Network Journeys by Cartoon Network Studios
Pistol Whip by Cloudhead Games
Runnin by Reggie Watts & Kiira Benzing
Screensavers VR by FLOAT LAND
Acron by Resolution Games
Beat Saber by Beat Games
Tilt Brush by Google
HADO by Meleap
More to be announced...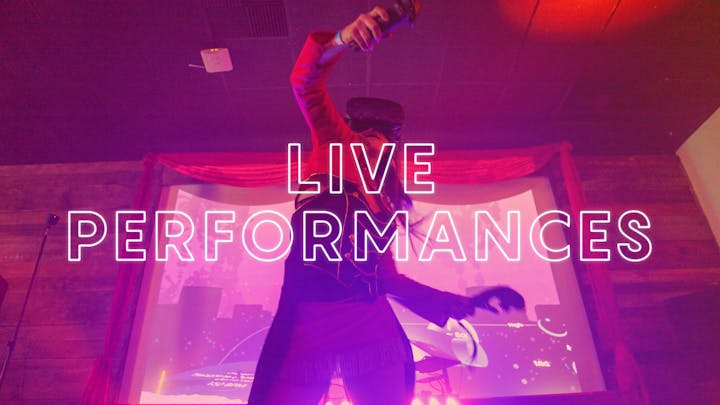 Dance the night away with an eclectic mix of local legends and Tilt Brush artists.
8:00 - 9:00
DJ friendwill
9:00 - 9:30
A Fireside Chat with Jessica Brillhart, Chris Prynoski & special host Gary Gravy
9:30 - 12:00
DJ Jen Lasher
Tilt Brush performance by TheSabbyLife
OPEN BAR
A hosted bar with beer and wine will be provided. We'll also have food trucks on-site with hot eats available for purchase.
PARKING
Since the show includes an open bar, we highly recommend taking a Lyft or Uber. Street parking will be limited . If you drive, don't drink!

EVENT DISCLAIMER
You must be 21+years or older to attend this event. Tickets are non-refundable, but can be transferred. Please send an email to events@vrscout.com if you need assistance.
Your attendance signals your irrevocable consent to, and authorization without compensation for VRScout, its successors, assigns, contractors, sponsors and other film crews permitted by VRScout to film at the Scoutfest, to use your likeness, voice, and to make video and audio recordings of your attendance at the Scoutfest. You are hereby aware of such recording, and relinquish your rights to any compensation for any release of these recordings in any media now extant or to be devised in the future. If you do not wish to be subject to the foregoing, please do not attend the event.
Attendance at Scoutfest how does not guarantee access to any particular demo, but rather the event as a whole. By attending the Scoutfest at the ctrl collective on November 21st, 2019, you release VRScout, all of the event's organizers, volunteers, employees, exhibitors, vendors, sponsors and contractors from any and all liability – financial or otherwise – that may arise from my attendance at the above mentioned event. You are hereby aware that some people experience nausea, disorientation, motion sickness, general discomfort, headaches or other health issues when experiencing virtual reality. Your entry signals your agreement to take full responsibility for these or any other consequences that may arise from attendance at the Scoutfest.
Be aware that some content being exhibited is in an unfinished, prototype state, and may heighten the above sensations. By remaining on the premises you agree you will not pursue legal action against VRScout and any of the event's organizers, volunteers, employees, exhibitors, vendors, sponsors, or contractors for any damages – real or perceived – arising from attendance at Scoutfest. If you do not wish to be subject to the foregoing, please do not attend the Scoutfest.
Alcohol is not included in ticket price, but provided free of charge courtesy of event sponsors. We ask that all attendees do not to drink and drive. We encourage anyone consuming alcohol to make arrangements for a taxi, Uber, Lyft, or some other means of transportation prior to the event.