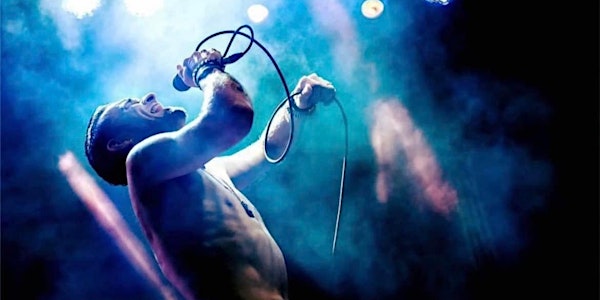 Scotty Austin Band (formerly of Saving Abel) w/ The OddEven and Demyze
Former frontman of rock band Saving Abel
When and where
Location
Bright Box Theater 15 N. Loudoun St. Winchester, VA 22601
Performers
Headliners
More Performers
About this event
SATURDAY, OCTOBER 8
DOORS, BAR, & KITCHEN OPEN at 7PM
SHOW at 8PM
TICKETS
GENERAL ADMISSION: $15 + admission tax & processing fee
DOOR: $18 + admission tax
Advance ticket sales end at 6PM the day of the show. If tickets are not sold out by this time they will be available for purchase when the doors open.
ALL TICKET SALES ARE FINAL. NO REFUNDS. NO EXCHANGES unless the show is postponed or cancelled
IMPORTANT INFO
GENERAL ADMISSION
This is an all-standing show. Limited bar stool seating is available on a first come, first served basis. Be sure to wear your party pants and your dancing shoes!
ALL AGES
FOOD & DRINK AVAILABLE FOR PURCHASE
________________________________________________________
Scotty Austin isn't your ordinary or average run-of-the-mill rock star. With a remarkable track record playing across the United States, as well as being a multi-instrumentalist in numerous genres, it is clear he has a unique perspective when it comes to creating music. Hailing from Parsons, Tennessee, his interest in various instruments started at a young age when he began reading music in kindergarten while also gaining experience in the family band at church. By the late 90s, Scotty began expanding on his knowledge of music genres and branching out to multiple styles such as percussion and classical guitar performance before earning his spot as the band leader of the official NASCAR Rolling Thunder band for an entire season. His accomplishments continued when around the early 2000s, he won fourth place in the world during the International Blues Contest while representing Memphis, Tennessee.
Shortly after, Scotty collaborated with a new original group and recording artist, Ash Bowers, along with Jason Aldean's label, Broken Bow Records, as well as the sister label, Stoney Creek Records. It wasn't long until Scotty decided to start his own original project, an indie rock band called Trash the Brand. He had wanted to record and play songs that he had written but never had the chance to play. Within weeks of forming, he was playing to packed houses and venues which in turn caught the attention of a few people in the music industry. Soon Scotty found himself in contact with Jeff Hanson (manager of Creed and Saving Abel), who offered to manage him. While negotiating, he asked Hanson to put him on the show with Saving Abel that was happening that weekend in Memphis. He was given the opening spot for the concert. A few days after the show, Scotty was asked to front Saving Abel in which he accepted and has since been with for over 8 years.
Scotty Austin has used his natural talent and ear for distinct sounds to produce expressive song lyrics and music throughout his career. His hard work and dedication has continued to be met with astounding results, even landing him on a #1 hit video game soundtrack with the band Supernova Syndicate for the smash hit game Dead Rising. He continued to hone his skills and perform multiple guitar session work with various producers and artists in Nashville, TN. This led to him becoming the band leader for Jonathan Singleton, one of Nashville's biggest singer-songwriters, and also playing lead guitar in the group Full Devil Jacket on their second record. Established in 2004, Saving Abel has spearheaded the genre of rock and since 2013, Scotty has been fronting the multi-platinum and internationally renowned band. Together for almost a decade they have toured the United States and even abroad. Scotty Austin has used his artistry and extraordinary flair for songwriting to bring unparalleled entertainment to music fans everywhere. After the world persevered through a difficult year in 2020, Scotty is looking forward to getting back to what he does best and creating music that will have everyone anticipating what he accomplishes in the future.
Weed learned at an early age that he was adopted. In June 2019, he decided to find out where he was from and thought Ancestry DNA might be a good place to start... but after 3 submissions of saliva and multiple test results that said "cannot get accurate DNA read", he gave up trying to figure out his human heritage. Weed came to grips with the fact that he might not be from planet Earth, so he decided it made perfect sense to join musical forces with E.T. (another alien), and the nucleus of The OddEven was formed. The band line-up was rounded out with other seasoned touring musicians that summer including superstar Robb Wise on vocals. They quickly began writing new material while simultaneously booking opening slot road dates with well-known bands, Faster Pussycat, Bang Tango, Soulfly, Last In Line (Dio) and Nonpoint in VA, GA, and LA respectively. The OddEven also played headlining shows in FL and MS and closed out 2019 with showcases in Philadelphia and NYC. 2020 was spent writing and recording music as shows were cancelled and postponed due to the pandemic. After going through 7 human drummers since the band's inception, The OddEven went back to the alien well, and found The Monk to solidify the rhythm section in early 2021.
The OddEven's music can be described as riff-oriented hard rock, with infectious vocals and harmony. The late 90s / early 00s came calling and the band answered the phone.
The first record, "Space Juice" arrived on Earth on 4.20.20. It spawned two singles "Again" and "Bleed for Something" which each cracked Billboard's Mainstream Rock top 30 and Foundations top 15 charts. In January 2021, the band started recording "Dance of the Dead" and released it on 9.24.21 (Pavement Entertainment). Touring commenced in July 2021 in Florida with a couple headlining shows plus opening for Slaughter and LA Guns. In September and October, The OddEven completed a 30 city cross-country tour with Adema and Flaw. Dance of the Dead (title track) reached #8 on the Foundations and #20 on the Billboard radio charts in Nov. 2021. The band will be writing and recording through the end of 2021 before heading out on another tour in the spring of 2022 and putting out a subsequent release - working title "Space Dust". Beware of rocket blast!
Demyze is a hard rock/alt. rock band out of the Mid-Atlantic area. They released their first EP "A New Beginning" in 2016, which featured five all original songs. They played several shows in 2016 with several local, regional, and national acts.
April 1st, 2017 Demyze released their first full-length album "The Fall Of Man" featuring ten songs. Five songs from the previous release that have been remastered, and five brand new songs.
In 2021 they released their second full-length album titled "Negative Is My Normal" which features the single " Against Me".
Demyze has shared the stage with several national acts such as: Breaking Benjamin, Sick Puppies, No Resolve, Drowning Pool, Otherwise, Saliva, Saving Abel, and Buckcherry, just to name a few.
________________________________________________________
FAQs:
Is there lodging nearby?
There are lots of great and affordable lodging options — from hotels and motels to camp grounds and bed & breakfast spots — just minutes away from Bright Box. Right around the block is the elegant George Washington Hotel, and Courtyard Marriott is quick drive and within a stones throw to the beautiful (and highly recommended) Shenandoah Valley Museum. Check out these websites to explore your options and discover all the wonderful opportunities in Winchester:
• http://www.visitwinchesterva.com/lodging/hotels-and-motels
• http://oldtownwinchesterva.com
Where do I park?
Bright Box is located at 15 N. Loudoun St. on the beautiful pedestrian mall in Old Town Winchester. The nearest parking is the Braddock Auto Park at 30 N Braddock St. This is about a block away from the venue. The parking garage does have several handicap parking spaces available.
Once you've parked in the garage you'll exit toward the pedestrian mall. Once you hit N. Loudoun you'll make a right and Bright Box will be on your right a few storefronts up, directly across from the Old Court House Civil War Museum
More information about the garage can be found here: https://www.winchesterva.gov/parking/garage-information
Is Bright Box handicap accessible?
Absolutely. The venue is handicap accessible and ADA compliant. The infrastructure in Old Town Winchester is friendly toward those with physical challenges or in wheelchairs. Park in one of the close-by parking garages and come to the main door at 15 N. Loudoun St. (the walking mall). We ask that you arrive when doors open, and we will be happy to escort you to a place best suited to your needs in the theater or to take you to the elevator to access the upstairs Out of the Box room.