Scottsdale Taco Crawl - An All Day Taco Party!
Description
WRISTBAND/PACKET PICK-UP: You can pick up your wristband, taco punch card, etc. on the day of the crawl from:
11:30am-5:30pm at Old Town Gringos (4209 N Craftsman Ct)
OR
12pm-5:30pm at Wasted Grain (7295 E Stetson Dr)
*You will receive one taco per hour. The earlier you arrive, the more tacos you will get!

WRISTBANDS: You MUST wear your wristband during the crawl!

CRAWL LINEUP/WHERE & WHEN YOUR TACO PUNCH CARD IS VALID: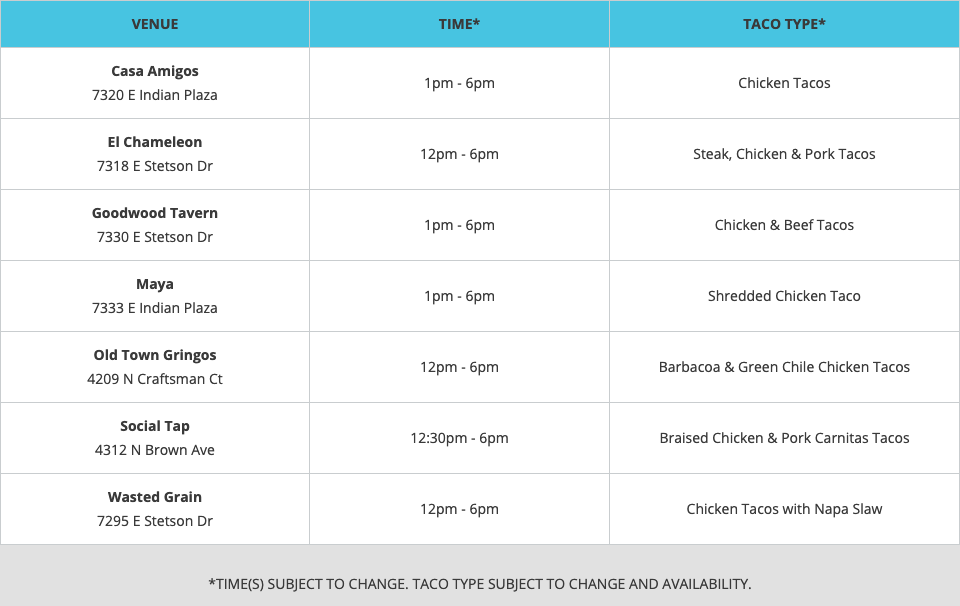 Please Note:

If there is a long line at a certain venue or a long wait for tacos, you can wait in that line or move on to the next venue. Your punch card will be punched in the time slot when the taco is handed to you (not the time you got in line) so please keep that in mind.
If a bar runs out of tacos (which we don't foresee happening) please move on to the next bar.
DRINK SPECIALS: Enjoy $4 Beers*, $5 House Margaritas, and $7 House Silver Tequila at most bars!
*Type and Style of Beer Varies Per Venue – please ask your server which beer(s) are $4
PHOTO CONTEST: Enter to win our PHOTO CONTEST by posting pictures to Facebook or Instagram using "#ScottsdaleBarCrawls" and "#ScottsdaleTacoCrawl" Our panel of judges will go through the pictures and winners will be contacted after the crawl! Be a Scottsdale Taco Crawl Champ, and post a picture from every bar!

Tacos, tacos, tacos, beer & tequila! Crawl from bar to bar and sample awesome tacos as you throw back beer and tequila! Foodies need not apply, this crawl is for people who want to eat, drink and party!
WHAT'S INCLUDED: Tickets include 6 Tacos, Drink Specials, Entry to All Bars & More!

WHY: Inhale Tacos. Exhale Negativity. #namaste
FREE TICKETS/RAISE MONEY FOR YOUR CAUSE: See below for more info.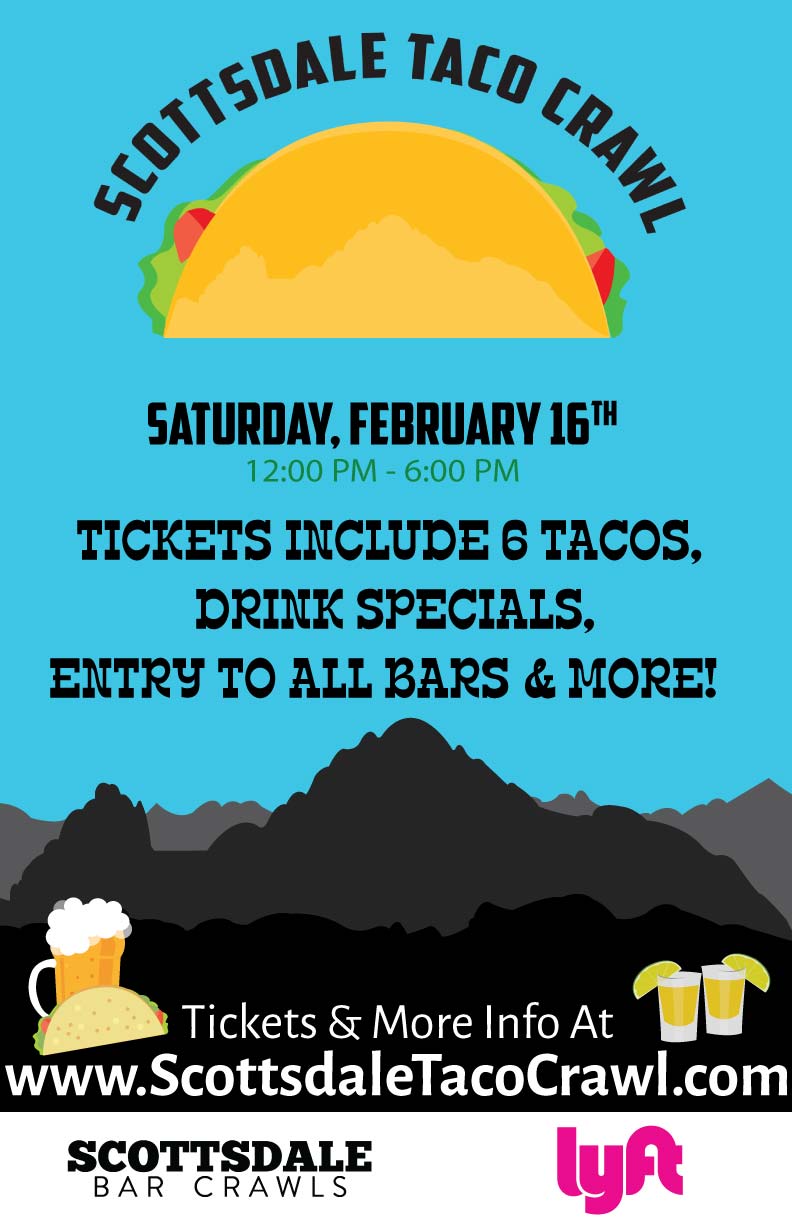 FREE RIDES AND FREE FOOD: Use code 'AZCRAWL' for $20 in FREE rides from Lyft, sign up HERE! Also, give DoorDash a try! It's an awesome food delivery service. Get $7 off your next order when you sign up HERE!
PHOTOS FROM LAST YEAR: Check out pics from last year by clicking HERE!
DIETARY RESTRICTIONS: Please note that a variety of tacos will be served, but we unfortunately cannot cater to all dietary restrictions. If you are gluten-free, vegetarian, vegan, etc. this is probably not the best event for you.
SPONSORSHIP OPPORTUNITIES: For questions, sponsorship opportunities, and press inquiries, please email Info@ScottsdaleBarCrawls.com

FREE TICKETS/RAISE MONEY FOR YOUR CAUSE:
-Fundraising Opportunity: Are you trying to raise money for a certain cause? Email Info@ScottsdaleBarCrawls.com for more info!
-Celebrate your birthday on the crawl and your ticket is free! Email Info@ScottsdaleBarCrawls.com for more info (restrictions apply)
-Want to earn a free ticket and some cash for spreading the word? Email Info@ScottsdaleBarCrawls.com for more info!
FINE PRINT:
All Guests must be 21+ with valid government issued ID. We will crawl rain or shine! NO REFUNDS! If you cannot find your ticket please contact
Eventbrite.com
directly, please do NOT email us as there is nothing we can do. Must be 21 years old to participate. Participating venues and advertised times are subject to change. Scottsdale Bar Crawls promotes safety and urges all participants to drink responsibly. Participating venues reserve the right to refuse entry to guests who are deemed intoxicated (or otherwise unfit) upon arrival. No refunds will be given. Participants must bring their Print At Home Ticket to the registration venue. No refunds. All sales are final. If a venue is at capacity then you may have to wait or proceed to another venue. Do not be late for registration. Prices are subject to change while supplies last.
*Unfortunately the Eventbrite system does not allow us to restrict people who are underage from buying tickets. If you are not 21 and purchase a ticket, you will not be allowed into the event.*