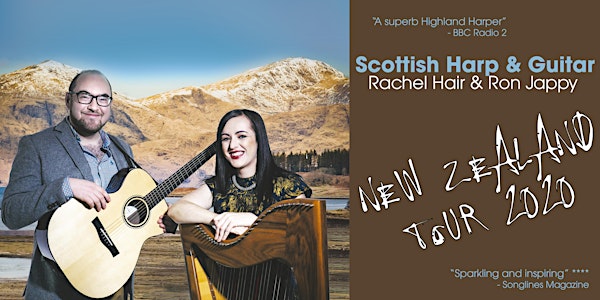 Scottish Harp - Rachel Hair & Ron Jappy
When and where
Location
A Rolling Stone 579 Colombo Street Christchurch, Canterbury 8011 New Zealand
Description
Two of Scotland's most lauded traditional musicians bring their passion for Scottish music to New Zealand for the first time.
Take the oldest Scottish instrument, the clarsach (harp), and the newest addition to the traditional music arsenal, the guitar, and throw them in the musical blender of Scotland's biggest city Glasgow and out comes Rachel Hair and Ron Jappy!
Superb instrumentalists with a shared passion for traditional tunes, they perform as if sharing one mind, combining the history of the harp and the culture of Scotland, the duo charms audiences wherever they go.
Having racked up performances throughout Africa, Asia, Europe and North America and they recently released their 5th album to great critical acclaim.
Tour supported by Creative Scotland