Scottish Fiddle Champion Melinda Crawford In Concert ~ Saturday, October 18
Description
Melinda Crawford in Concert!
U.S. National Scottish Fiddle Champion

Saturday, October 18th, 8:00 PM - 10:00 PM
A "Harvest Home Concert" ~ Music of Traditional Cultures
Harvest Home is a monthly series of concerts performed by musicians who have immersed themselves in traditional music and achieved acclaim and recognition as 'Tradition Bearers' in their respective fields. This series of Traditional Music is sponsored by George Balderose of the Balmoral School of Piping and Drumming and, with much appreciation, is hosted by The Four Directions - A Center for the Arts and Healing. Please also see our other concerts in the Harvest Home Series!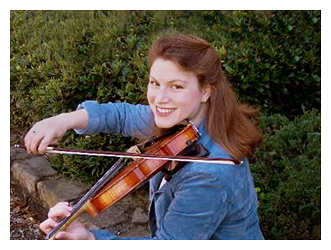 Melinda Crawford, a U.S. National Scottish Fiddling Champion, is a frequent and popular performer throughout the United States and beyond. Always drawing a crowd, she has been heard at everything from highland games and Celtic festivals to a Hard Rock Café and Esterházy Palace in Austria. She has also had the honor of performing for the 37th Lord Lyon King of Arms of Scotland, David Sellar.

Melinda has won numerous awards for her solo playing and her original compositions at regional and national Scottish F.I.R.E. competitions. She achieved fiddling titles such as the Allegheny Mountain Fiddling Champion and the Potomac Valley Fiddling Champion several times prior to winning the 2003 U.S. National Scottish Fiddling Championship and becoming a sanctioned Scottish F.I.R.E. competition judge. She was a finalist for the 2008 Niel Gow International Scottish Fiddle Composition Competition held in Pitlochry, Scotland.

A well respected teacher, Melinda has been repeatedly invited to present educational sessions at national conferences to school string teachers about how to teach traditional Scottish fiddling in the classroom. She is an instructor at the Jink & Diddle School of Scottish Fiddling in North Carolina. Melinda conducts workshops on Scottish fiddling all over the US and teaches Scottish fiddling privately and internationally to many students over the internet. She frequently judges Scottish F.I.R.E. competitions at highland games and has judged previous F.I.R.E. national championships.

Melinda is currently residing in western Pennsylvania where she is an assistant professor of music at Westminster College. At Westminster, she is the string education specialist and directs both the symphonic orchestra and Ceòl na Teud, Westminster's Scottish string music group. Though she most frequently performs with pianist Dan Perttu, she also performs with Pittsburgh-based, Scottish/Irish group, Road to The Isles.
To hear parts of her tunes from her CD "The Sheiling Braes", go to Melinda's Store here:
http://www.melindacrawford.com/store.html
"The Sheiling Braes is a recording through which her enthusiasm for the genre fairly flies off the disc. The racks display high energy and she has the fiddle 'speakin' the Gaelic' very well indeed. You'll want to listen to this one many times."

_ Dr. John Turner, Ten-time National Scottish Fiddling Champion; Founder/Director, The Jink and Diddle School of Scottish Fiddling

Seating is limited in our wonderfully intimate and beautifuly acoustic "Great Room", so please order your tickets early. BYOB and potluck munchies. We look forward to seeing you here!
Organizer of Scottish Fiddle Champion Melinda Crawford In Concert ~ Saturday, October 18
The Four Directions, a 501c3 nonprofit Corporation, dedicated to the Arts, Creativity, Spirituality, Healing and Nature, is located in Gibsonia, Pennyvania, a 40 minute drive North from Pittsburgh. Situated on ten rural acres of terraced hillsides, it has three lovely spring-fed ponds and a blend of scenic woodlands, floriferous gardens and wild native pastures with historic and modern buildings and outdoor structures and ceremony places. The grounds are a tranquil place to walk, explore, meditate or converse whie attendin the Center's diverse offerings.

We offer a fascinating mix of creative experiences, self-discovery programs, art exhibits, participatory demonstrations, music and dance performances, meditative retreats, modalities in the healing arts, special events and ceremonies, deep interactive connections with nature and much more. Programs are led by remarkable artists and creators, healers, wisdom keepers, and personal growth guides, who inspire through a shared sense of playfulness and visionary ideas
Join our mailing list and download our brochure at our website:www.thefourdirections.org