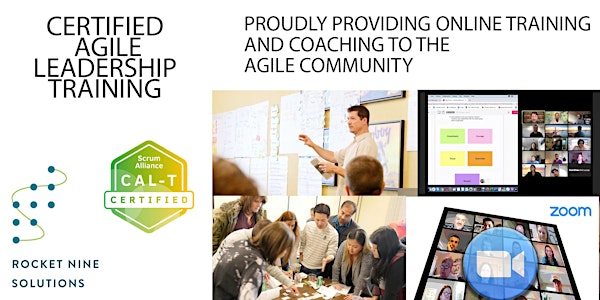 Scott Dunn|Online|Agile Leadership Training Teams|CAL -T| Nov.2021
Creating awareness about the changing dynamics in today's world of work & equip leaders w/the practices they need to effectively lead teams
About this event
***Guaranteed to Run***
You want to lead your teams and people better. There's more there.
The problem is…
You know you shouldn't dictate what they do, but what DO you do? What are the actions, tools and mindset when managing and leading teams and team members?
You've heard the principle "servant leader," but what does that mean practically?
You're not confident dealing with problem team members, or team conflict.
You can see that team isn't at peak performance, but it's not clear how to get them there.
Get the practice, tools, skills and confidence you need to lead, manage and grow teams and team members.
CAL-T is an ideal next step for ScrumMasters, leads, and those who manage teams or want to better support those roles.
No prior agile knowledge or experience is required for CAL-T (or any CAL workshop).
CAL-T is primarily
How to create and lead high-performing teams
How to develop and grow team members, and
How to increase your own effectiveness and influence
Understand different approaches to influencing culture and leading teams (micro and macro culture), so that I can guide and support ideas that move and align the team and its culture with the organization's culture and business goals.
Look at the reasons for the challenges with multiple teams and scaling and avoid one-size-fits-all scaling solutions.
The other two workshops that build on and complement CAL-T are CAL-E and CAL-O
CAL-E is primarily how to move the "expert" type of leader who has all the answers (or feels he or she needs to) and move to one who thinks long term, is more self-aware and enables and empowers a team to solve their own problems. We practice problem-solving conversations and giving and receiving feedback. Great for managers, project managers, ScrumMasters, and any in leadership positions, including Product Owners. No more "If only we could clone Chris!"
CAL-O is primarily the tools and practices to assess your current department and organization's culture current state and goals, and the practical tools to lead change that in a way that fits your company's values and ways of working. We also cover a tailorable agile best practices approach that begins with getting alignment on the company's business goals and paths to agility that supports that goal. Rather than using all the equipment in the gym, get the recommended exercises and equipment based on your specific goals (get stronger, get thinner, run your first marathon, etc).
Trainer Scott Dunn is certified in SAFe and LeSS and has lead multiple companies through their Agile transformation, including Deloitte, Dell, Pacific Life, Saffran, Rovi, and NASA. He is one of a very few Certified Enterprise Coaches by the Scrum Alliance, a credential that is peer-reviewed and takes years to attain.
About Rocket Nine Solutions
Rocket Nine Solutions stands out in the marketplace of Agile training and coaching organizations because we choose to focus on building up our local Southern California community. We sponsor and participate in our local agile meet-ups and conferences. We strive to build up a local talent pool of coaches in an effort to come alongside our clients implementing Agile transformations. We partner with top-notch trainers who are leaders in the global marketplace to provide the highest quality training for our Southern California clientele. All of our courses are taught interactively with an emphasis on learner engagement. Please click here to learn about our founder Scott Dunn's background and why he is so passionate about agile.
 Logistical Questions 
Cancellation Policy - Reschedule to another of our classes anytime, or cancel anytime up to 7 days before class for 100% refund. Fewer than 7 days notice will result in a 75% refund to cover hard costs. No-shows or move/cancellation requests on the day of class are non-refundable. For minimum learning experience, the course must run with a minimum five registrants. If fewer than five are registered, the class may be canceled three to seven days in advance, and attendees will be offered seats in the next Rocket Nine Solutions classes in the area or a full refund.
 Media Release Implied by Registration - Please be aware that Rocket Nine Solutions (Scott Dunn, et al) may choose to record electronic and traditional media (e.g., photographs, video, audio footage, testimonials) at this event and attendees may appear in these recordings. By submitting a registration for yourself or someone else, or by attending this event, you grant permission for Rocket Nine Solutions to store those recordings in a database and to use them in future print, electronic, or other visual media for educational and promotional purposes. If you do not wish to grant permission, please contact the event coordinator listed below prior to attending the event. Please refer to our FAQs page if you have questions.If you need assistance, please contact Scott Dunn at scott@rocketninesolutions.com or call 615-920-1477.