About this Event
"He sings his heart and soul, and in doing so lets light flood into your own... A good eye for imagery, a gentle human touch, a wry sense of humour, a whole lot of integrity, a warm, rugged voice and a bunch of memorable lines... Truly one of Woody Guthrie's children." -RnR Magazine
A roots balladeer with a rare personal warmth, Canada's Scott Cook has managed to distil the stories collected over eleven years touring across Canada, the USA, Europe, Asia, Australia and elsewhere into straight-talking, keenly observant verse. Road-worn, painfully honest, and deeply human, his tunes weave threads of folk, roots, blues, soul and country over spacious fingerstyle guitar and clawhammer banjo arrangements. His fourth release, One More Time Around, was nominated for a Canadian Folk Music Award, and its opening track "Pass It Along" won the Folk and Acoustic category in the 2013 UK Songwriting Contest, with UK magazine Maverick Country naming him "one of Canada's most inspiring and imaginative storytellers". In 2015 he put together a seven-piece honky-tonk band for his fifth studio album, Scott Cook and the Long Weekends Go Long, and in 2017 he released his sixth album Further Down the Line, earning his second Canadian Folk Music Award nomination, for English Songwriter of the Year. The album is packaged in a 132-page softcover book offering a look back, in words and pictures, on his last decade of near-incessant rambling. Cook is one of the hardest-working DIY troubadours on the road today, averaging over 150 shows and a dozen festivals every year since 2007. All the hard miles notwithstanding, he still believes that songs can change your life, and your life can change the world.
"Scott Cook has distilled his travels down into songs powered by a sharp eye for imagery, a healthy dose of humanity, and that unforgettable voice, that at the same time intones the rigors of the road and the most comfortable couch you have ever slept on." -David Francey, 3x Juno-winning songwriter
"As good a modern folkie as we have these days. A voice perfect for the genre. An understanding beyond the norm." -No Depression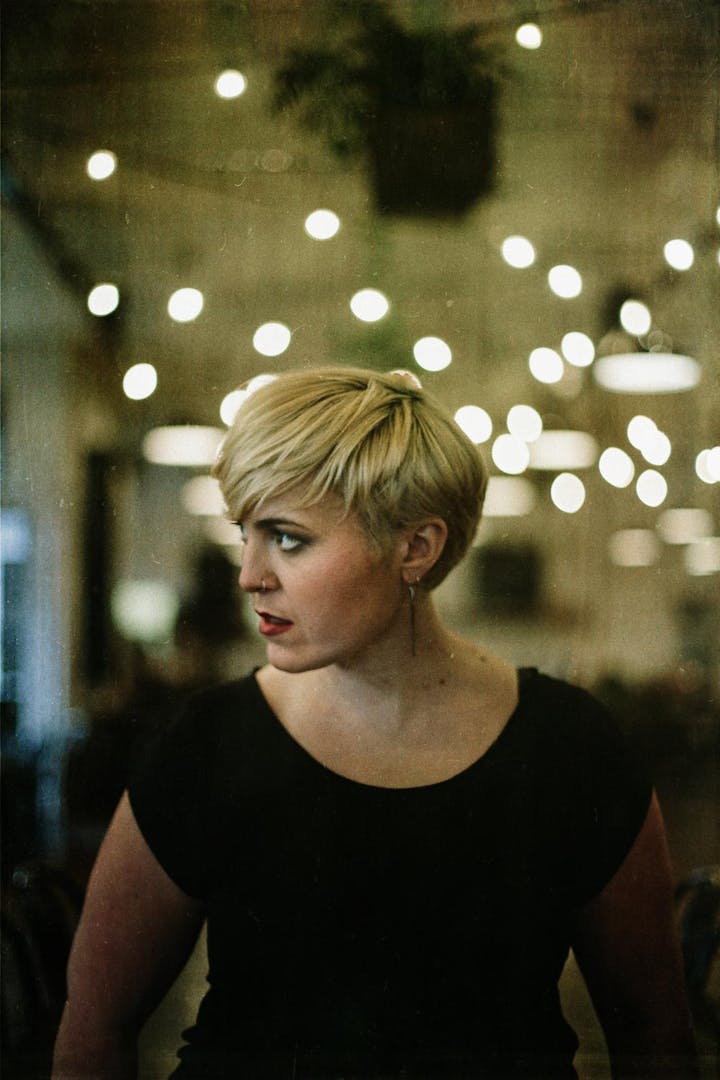 Liz Stringer was playing piano before she could talk. The dye was cast young. She grew up in Melbourne, Australia, the youngest of three kids. Her Dad was a music teacher, her Mum a literature and history teacher. The house reverberated with music of some kind constantly. There were instruments and books on every surface. And the backyard was littered with Aussie rules footies, cricket bats and tennis racquets. Ball sports and art. It was a good way to grow up.
At thirteen Liz won a music scholarship to an elite private girls school. She spent a few years there, making the most of the grand pianos and the sports facilities. It was a supportive, but rigid, environment. At fifteen she started playing guitar. At sixteen she went to Germany, started a band and recorded her first demo with her friends. Onto cassette. She cut her performing teeth in Germany. And learned how to drink beer and smoke cigarettes. Everyone smoked back then.
She returned to Melbourne, went to her local high school, and began to write more and more songs. The guitar went everywhere with her. She busked for beer money and worked in a terrible buffet restaurant after school to save for a return to Europe.
After she finished high school she went back to Germany, picked up the band where they'd left it, borrowed a black Fender Stratocaster and a Bassman amp, secured a rehearsal studio in a World War II bunker and rehearsed religiously over the next three years. They played a few gigs. And had a lot of fun.
Then she went to England. To follow love, and obtain enough work to sustain her continuing life in Europe. She learned how to barkeep, she wrote more and more songs, played some solo shows and began to focus on the acoustic guitar again.
In 2003 she returned to Melbourne. And by 2006 had made her first album, "Soon" with her best mate, drummer Adam May. Twelve years later, she's released five subsequent albums, toured all over Australia and in other corners of the world and calls some of the most influential roots musicians in the world among her doting fan base. Stringer's highly anticipated sixth studio album was recorded in February and March of 2018 at Union Sound Company in Toronto's east end, under studio co-founder and producer/engineer Chris Stringer. This recording, comprising the most personal and direct lyric content seen from Stringer's pen to date, marks the most forthright articulation of her widely celebrated musicianship and sheer dedication to the art of the song, a combination proving to be an increasingly rare and potent force.
Due for a 2020 world-wide release, and accompanying tour dates in Australia, North America and Europe, Stringer's 6th studio album heralds an artist that is arriving into her own as she sets her eyes to a rightful place at the table of the most significant and respected songwriters of the modern era.
Performers
Date and Time
Location
Refund Policy