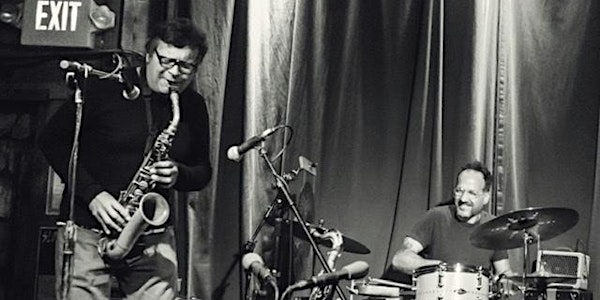 Scott Amendola Phillip Greenlief at Palo Alto MOVED TO NEW LOCATION OUTDOOR
Free concert, part of a series, by Earthwise Productions and Palo Alto Art Center Auditorium MOVED TO MITCHELL PARK BOWL, 600 EAST MEADOW DR
When and where
Location
Mitchell Park Bowl 600 East Meadow Drive Palo Alto, CA 94304
About this event
NOTE: THIS EVENT HAS BEEN MOVED TO MITCHELL PARK BOWL, OUTDOORS, 600 EAST MEADOW DRIVE, PALO ALTO -- ABOUT 2 MILES SOUTH OF ORIGINAL VENUE
Scott Amendola, Drums, and Phillip Greenlief, saxophones are veteran Bay Area jazz improvisers. They played an Earthwise Productions event in 2019 at Mitchell Park Center. Amendola also appeared with Charlie Hunter, T.J. Kirk, Wil Blades and his own bands.
Earthwise's first concert in 15 months, this event is part of a series of free events including 8/7 La Dona (sold out) and 8/14 David James/Beth Custer/Alan Williams (guitar, clarinet, trombone, voice).
(Visit the Palo Alto Art Center galleries before or after the show, between 10 and 5, to see art by Lava Thomas, Titus Kaphar and others, "The Black Index" guest curated by Bridget R. Cooks. Although unofficially so, the Earthwise series is in dialogue with the art show, or a reaction to it, or a tribute. How do words, images and melody affect societal change? What is the distinction between the arts and entertainment? How does hearing new music influence the way you see or make art? )
Motoko Honda, piano, opens the show.
Since his emergence on the west coast in the late 1970s, saxophonist/composer Phillip Greenlief has achieved international acclaim for his recordings and performances with musicians and composers in the post-jazz continuum as well as new music innovators and virtuosic improvisers. He has performed with Wadada Leo Smith, Meredith Monk, Rashaun Mitchell and They Might Be Giants. Albums include LANTSKAP LOGIC with Fred Frith and Evelyn Davis, THAT OVERT DESIRE OF OBJECT with Joelle Leandre, ALL AT ONCE with FPR (Frank Gratkowski and Jon Raskin), and OH THAT MONSTER with LA punk pioneers Thelonious Monster. Recent residencies have included the Banff Center for Art and Creativity and Headlands Center for the Arts. His critical writing has been published in Artforum, open space (sfmoma), and Signal to Noise.
Critically-acclaimed Japanese-born composer/pianist/multimedia artist Motoko Honda has created a distinctive sound through her holistic approach to music, her collaborative sensibility to multiple art forms and inspired use of innovative technologies. Portrayed as a "Keyboard Alchemist"(Chris Barton, L.A.Times) and the "Embodiment of a Muse" (Greg Burk, metaljazz.com), Honda has fascinated critics and audiences alike with her genre-defying innovative approach to piano playing and composing. With stylistic influences ranging from jazz to Indonesian music and contemporary prepared & electrified piano, Honda is a musical force of nature, bringing a unique creative sound to her solo works and wide-ranging collaborations. Her music transports audiences on sonic adventures that transcend the boundaries and conventions of traditional contemporary music concerts.