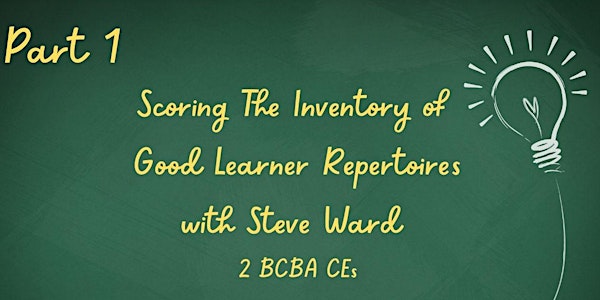 Scoring The Inventory of Good Learner Repertoires - PART 1
Scoring The Inventory of Good Learner Repertoires - PART 1
Refund Policy
Contact the organizer to request a refund.
Eventbrite's fee is nonrefundable.
About this event
223 days 21 hours

Mobile eTicket
Live event May 24th 12-2pm CST - Recording available with this ticket
As more parents and professionals are using The Inventory of Good Learner Repertoires (Ward & Grimes, 2008), there is also increased interest in and questions about how to accurately score this assessment. While a FREE 92-page book is available detailing how to score the Inventory, we know that many people prefer to listen, watch, practice and discuss. So, we are providing a 2-part webinar on scoring. The first 2-hour webinar is an introduction to scoring the Inventory.
In this webinar, we will: put scoring into perspective, discuss how gauging "steam" is critical to scoring the Inventory-review videos of student performance and practice scoring items-cover all of the basic "nuts and bolts" of scoring, such as how to tally scores and graph percentages, score Behavioral Excesses, Behavioral Supports, Perseverance and Focus, and Spontaneity
Participants will be able to:
1. Navigate basic steps of condensing item scores into summary scores of domains
2. Score many of the easiest items on The Inventory of Good Learner Repertoires
Note: You are signing up for part 1 of a 2 part training on scoring the Inventory of Good Learner Repertoires. Use the discount code provided with your registration for a discount on part 2.
*****Separate registration required*****
The second 2-hour webinar will be more advanced and will "get into the weeds" on details specific to learners with whom you work. We will:-discuss age-appropriate developmental levels-score "Preferences for Learning Channels" (consistently the most difficult domain to score)-have an extended "Question and Answer" period-score many of the items from Resilience and Regulation, Readiness, Flexibility, and Consequences -for those participants with sufficient interest and planning skills, we will gather proof of parental consent prior to the day of the webinar and view relevant videos to assist in scoring
Participants will be able to:1. Accurately score The Inventory of Good Learner Repertoires for a learner they know.
2. Discuss the relevance of learner scores for specific items.
Which webinar(s) should you attend? While everyone is welcome to attend each of these webinars and while a small discount is available for purchasing them as a package, we know that many of you are comfortable with the basics. Therefore, access to the advanced webinar is not contingent upon completion of the first webinar. That said, we will not slow down during the advanced webinar to cover basics. So, if you join only the advanced webinar and have basic questions, you will have only yourself to blame.