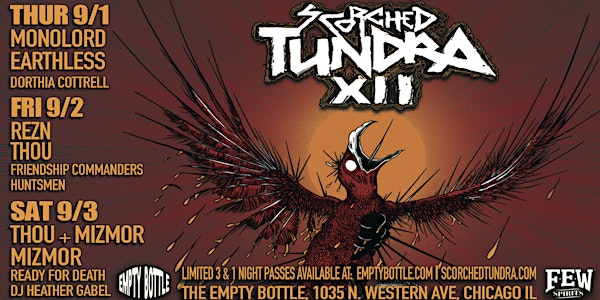 Scorched Tundra XII Featuring:REZN/ Thou / Friendship Commanders / Huntsmen
Performers
REZN
Thou, Friendship Commanders, Huntsmen
Location
The Empty Bottle
1035 North Western Avenue
Chicago, IL 60622
About this event
Scorched Tundra XII Day Two:
REZN
The music churned out by Chicago quartet REZN somehow manages to convey both crushing mass and cosmic weightlessness. The seed for the band's megaton riffs and psychedelic journeys was planted when guitarist Rob McWilliams and bassist Phil Cangelosi began jamming together at age twelve in the DC commuter town of Leesburg, VA. They relocated to Chicago in 2015, recruited local sound engineer Patrick Dunn to bash on the drums, and set about recording their debut album—the molten amp worship service Let It Burn—after playing just three shows together. They invited their friend Spencer Ouellette into the studio to round out their bottom-heavy sound with the hum-and-squall of modular synth, and the added textural component immediately became a key facet to their sound. REZN quickly established their footing in the heady-and-heavy Chicago rock community, playing around town with esteemed riff barons like Bongripper and Oozing Wound, as well as landing coveted slots for touring acts like Conan and Acid King. The 2018 sophomore album Calm Black Water continued the band's penchant for molasses-thick guitar-and-bass punishments with soaring minor key vocal melodies, but Ouellette further pushed the dreamscape envelope by supplementing the synth duties with blissed out saxophone passages. REZN hit the road, and with little more than a few short Midwest and East Coast under their belts, their reputation had festival promoters in California, Mexico, Netherlands, and Denmark adding the band to their prestigious line-ups alongside acts like Melvins, Fu Manchu, Earthless, Black Mountain, and YOB.
REZN's newest offering Chaotic Divine continues their melding of gargantuan heaviness and lysergic calm. Additionally, it continues the band's penchant for tying the music to a visual landscape. Let It Burn revolved around a cosmic and volcanic terrain inspired by the vastness of space; Calm Black Water conjured the deepest trenches of the ocean; and Chaotic Divine presents an endless desert world inoculated by spores from extra/intra-terrestrial beings. The conceptual element is buoyed by the continued cover art contributions from Allyson Medeiros, whose post-apocalyptic landscape for Chaotic Divine recalls the epic fantasy spirit of Roger Dean's classic '70s album art. The album was engineered by Dylan Piskula (DEN, Bruges) at JAMDEK in Chicago in December 2019, mixed by Matt Russell (Bruges, Moral Void), mastered by Carl Saff, and pressed as a 2xLP at Chicago's Smashed Plastic vinyl plant. All facets of production were done in Chicago with the band's oversight. Chaotic Divine opens with the seismic meditation "Emerging," a thrilling embarkation for the double-album's journey through cataclysmic riffs and sublime sonic haze. "Waves of Sand" saves the big-riff payoff until the final third of the song, using a slow tension-building sprawl to color the aural environment with hallucinatory saxophone lines and helium-grade ethereal guitars. REZN albums have always focused on the big picture, with songs threaded together to form one epic composition, and that approach is visible in moments like "Garden Green"—with its Pink Floydian unorthodox melodicism and tempered reserve—fluidly segueing into the hammer-fisted pummeling of "The Door Opens." Across the second half of the album, the band continues to employ psychedelic elements to give the heavier moments a more somber and meaningful presence, while the big pay-offs provide room for the narcotic and hallucinatory moments to breath and come into their own. This tactic is especially noticeable when instrumental synth-driven passages "Clear I" and "Clear II" morph into the King Crimson-on-cough-syrup psych-folk and guitar-and-sax riffage of "Optic Echo" and "The Still Center." The result is an album of textural delights and organic evolutions, all rendered in the studio with the band tracking the music live as a full unit over the course of six days. REZN's reputation has already quickly spread like wildfire through the ranks of doom aficionados, tone chasers, and psych junkies, but with the next-level toke-and-dirge odyssey of Chaotic Divine, the Chicago ensemble is poised to raze the Earth with even loftier cosmic heights and gnarlier bottom-feeder lows.
THOU
Thou is a metal band from Baton Rouge, Louisiana. Though oftentimes misread as "post rock" or "hipster doom" or lumped in with the Southern sludge, Black Sabbath-worship of New Orleans, Metairie, and Houma bands like Eyehategod, Crowbar, or Acid Bath—they share a more spiritual kinship with 90s proto grunge bands like Nirvana, Alice in Chains, or Soundgarden and the aesthetic and political impulses of obscure 90s diy Ebullition Vermiform hardcore punk. Since its inception in 2004, the band has released five full length albums, seven EPs (some bordering on full lengths), two collaboration records with The Body, two collaboration records with Emma Ruth Rundle, and enough material spread out over splits to make up another four or five full lengths. Thou will be performing a set of original material on Friday 9/2 and Myopia on Saturday 9/3 in collaboration with Mizmor.
FRIENDSHIP COMMANDERS
Friendship Commanders are a heavy duo from Nashville TN. The band consists of vocalist/guitarist Buick Audra, and drummer/bassist Jerry Roe. They will release their third LP in 2022; the album was co-produced, engineered, and mixed by Kurt Ballou, and was recorded at his Salem, MA studio, God City. The work is a concept album about leaving and the language we use to tell stories.
The band's 2021 singles, "ALTAR" and "LAND OF MEN" were written and recorded during the pandemic, and tracked by the band members in Nashville, TN. The tracks focus on honoring oneself over outside feedback, as well as pushing back against male dominance in the music industry and beyond. They were mixed by Kurt Ballou and mastered by Brad Boatright.
These two singles follow STONECHILD / YOUR REIGN IS OVER, released on Indigenous Peoples Day in 2020; and HOLD ON TO YOURSELF, released on April 3rd, 2020.
The band has released two albums. BILL (2018) was recorded at Electrical Audio by Steve Albini, and DAVE (2016) was engineered and produced by the band.
https://www.friendshipcommandersband.com/p/music.html
HUNTSMEN
Huntsmen return to Chicago, in support of their EP The Dying Pines – released on April 22nd via Prosthetic Records – following a successful European premier at Roadburn Festival. Speaking on the announcement of The Dying Pines and the latest reissue of American Scrap, the band comments: "The past couple of years have been a challenge for everyone across the board, with such uncertainty and considerable loss, we all had a chance to reflect on the past and were able to draw creative inspiration from it. Such themes are present in a lot of our songwriting and are an echo of what is in front of us."
The hiatus from regular band activity saw Chicago's Huntsmen return to their roots as a band, writing on an acoustic guitar and leaning into the narrative storytelling found on their debut full length, American Scrap. An invitation from Roadburn festival in the Netherlands to perform American Scrap in full at the 2022 edition of the festival gave them cause to revisit the songs that saw the band strike out with an Americana-metal sound that has been woven throughout their body of work. A collaborative approach to the songwriting has lent itself well to blending the strengths of the individual band members, as well as allowing space for threads of their own personal stories to to make their way into the sonic tapestry of new tracks, The Dying Pines and Let The Buried Lie Forgotten. The rich instrumental layering and warm vocal harmonies are a vessel for conveying bleak themes of loss and existentialist contemplation. Once again, the evocative cover artwork has been created by drummer, Ray Knipe, complementing the organic sound of the EP, which was recorded at Electrical Audio/Hypercube studios by Sanford Parker, and mastered by Collin Jordan (The Boiler Room). Elements of the post-apocalyptic vibe of Mandala of Fear find their way into this new EP, but The Dying Pines sits outside of the story arc present on the band's full lengths – a vignette that lets us know the heart of this band still beats strong, and offers a hint of what's still to come.
--
Please review our current COVID-19 policy here: