Scopeathon for Social Good
Scopeathon for Social Good at CMU
By The Block Center for Technology and Society - CMU
When and where
Date and time
April 1, 2022 · 7pm - April 2, 2022 · 8:30pm EDT
Location
Hamburg Hall 4800 Forbes Avenue Pittsburgh, PA 15213
About this event
Friday, April 1st & Saturday, April 2nd 2022
Hamburg Hall (CMU Heinz College)
While traditional hackathons are about writing code or building a technical solution, the Scopeathon is about better scoping civic data and tech projects so that they result in solutions that are actionable, adopted, and result in the intended societal impact. Scopeathon for Social Good will bring together students from different disciplines and project partners (community and government organizations in our region) to learn how to scope social impact projects that use data and tech and work together during the event to create a project scope that can then be turned into an effective and impactful solution.
Students will get hands-on experience learning to scope a data project with real-world, positive social impact. Students will be placed on teams with other students who care about using data to make a difference and connect with local nonprofits and government agencies who are interested in leveraging their data more effectively. This experience will prepare students for capstone projects and could lead to research opportunities. Students enrolled in all schools and programs across Carnegie Mellon University and the University of Pittsburgh are invited to participate! Teams will be organized based on students' interests and participating organizations closer to the event.
This year's Scopeathon is partnering with the StudentSect leg of the annual INTERSECT@CMU conference, titled, "Innovating A Sustainable Future for All." At this year's conference, the focus is on sustainability, the Sustainable Development Goals (SDGs) and the actions we must take to ensure that the next generation will live on a more sustainable planet. The Scopeathon social impact projects all fall into the 17 goals outlined in the United Nations' 2030 Agenda for Sustainable Development.
The event will kick off on Friday evening with a short session and keynote address, resume on Saturday morning, and consist of short workshops focusing on different components of the scoping process using our Data Science for Social Good Project Scoping Methodology developed over the last 10 years. Students are expected to attend the full Friday and Saturday sessions-meals will be provided. Please plan for 7-9:30pm on Friday and 10am-8pm on Saturday.
Project partners
This event is scheduled to be held in person and will follow Carnegie Mellon University's official COVID-19 protocols. Registration is capped, so please sign up early if interested in participating!
Please send any questions or requests to katieciez@cmu.edu.
------------------
Local organizations interested in participating, please find more information here.
Wait list only
We are thrilled with students' enthusiasm but will have to cap the event to ensure participants have the best experience possible. Anyone registering after March 24th will be on the wait list. There is a specific ticket type for wait list registrations. You will be emailed by Wednesday, March 30th end of day if you have moved from the wait list.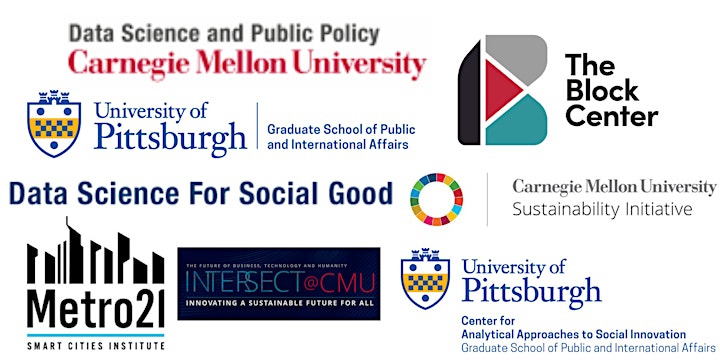 About the organizer
Established at Carnegie Mellon University in 2018, The Block Center focuses on how emerging technologies will alter the future of work, how AI and analytics can be harnessed for social good, and how innovation in these spaces can be more inclusive and generate targeted, relevant solutions that reduce inequality and improve quality of life.