Description
BASEL, SWITZERLAND: Celebrating nine years in Basel, SCOPE Art Show returns to its pioneering location in Klybeckquai. A wellspring of cultural development for Basel Stadt, SCOPE is the initiator of extraordinary happenings centered on the New Arts District on the Rhine, including the founding of a world class Art & Culture Hall.
SCOPE Basel will welcome 85 International Exhibitors alongside 10 Breeder Program galleries, and a selection of Juxtapoz Presents galleries offering a view of the contemporary art market available nowhere else. Exhibitors hail from four continents and over twenty countries including China, Mexico, Japan, Korea, Brazil, Italy, Iran, Russia, Turkey, France, Belgium, the Netherlands, Norway, Switzerland, Germany, UK, Spain, and Canada.
Following its tremendous success in Miami, SCOPE is honored to present the second edition of Feature | Korea, in collaboration with the Galleries Association of Korea. Sponsored by the Korea Ministry of Culture, Sports and Tourism, this curated section offers a glimpse at the current art trends in Korea and shines new light on the country's contemporary cultural practice.
Long-established as the original incubator for emerging work, SCOPE's Breeder Program celebrates its 15th year of introducing new galleries to the contemporary market. A remarkable opportunity for exposure, Breeder Program alumni include: Peres Projects, John Connelly Presents, Galeria Enrique Guerrero, Daniel Reich Gallery, Bischoff/ Weiss, INVISIBLE-EXPORTS, SEVENTEEN, ROKEBY, Taxter Spengemann, Magical Artroom and Spinello Projects, among other notable galleries.
SCOPE Basel opens to VIPs and Press on Tuesday 2pm-4pm, June 16, with its Platinum First View benefit from 12pm - 2pm; the fair will run June 16-21, 2015. Visitors may reach the fair by a scenic walking route along the Rhine, or by SCOPE Basel's complimentary shuttle service in-between the fair and Art Basel, Liste and VOLTA11.
---
SCOPE operates six dedicated shuttles which will run continuously between SCOPE Basel, Art Basel, and select locations. Shuttle Information.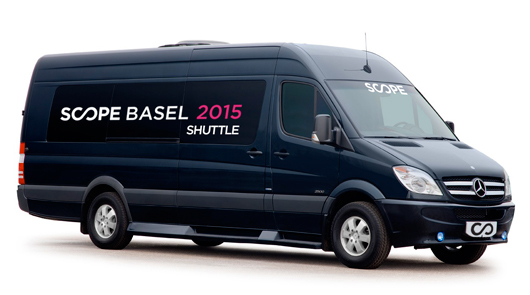 Organizer of SCOPE Basel 2015
With over 75 art fairs spanning more than 15 years, SCOPE is celebrated as the premier showcase for international emerging contemporary art and multi-disciplinary creative programming. Renowned for its uncanny ability to forecast new visual trends that are embraced globally, SCOPE Art Shows garner extensive critical acclaim and over 500 million annual impressions across print, digital and television. With cumulative sales well over one billion dollars and attendance of 1.2 million visitors, SCOPE Art Show is the largest and most global emerging art fair in the world.