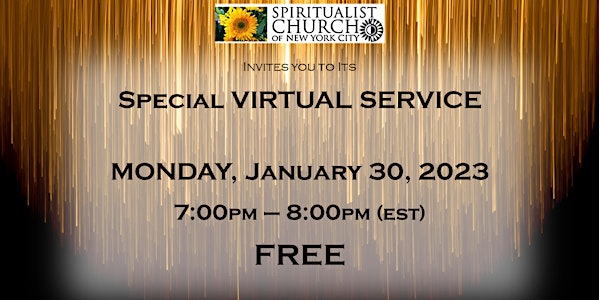 SCNYC January 30, 2023 Special Virtual Service
Join us for a FREE Special Virtual Service!
About this event
It's the New Year and the Spiritualist Church of New York City's is planning a Special Virtual Service led by SCNYC President Rev. Janet Hariton. Come join us and put forth intentions to Manifest your Goals for the New Year.
The online service is free and open to anyone, regardless of where you're based. Everyone is welcome at a Spiritualist service, regardless of creed, color, name, or origin.
The evening will feature an inspirational talk delivered by Rev. Hariton, a special guest will deliver a healing prayer, and will provide a guided mediation and/or healing. Certified psychic-mediums will be delivering up to six, short messages. Anyone in attendance at the service will be eligible to receive a message, but not everyone is guaranteed one.
Policy Change:
We now require all attendees to pre-register in order to attend our services. Please be sure that the name you used in your Eventbrite account is the name you'll use to attend the service. There will be a waiting room enabled, please be patient, as long as you are in the waiting room by 7pm you will be admitted before we begin. In order to maintain the energy of the group we are unable to admit anyone during the meditation, however if you are in the waiting room we will admit you once it's finished. For reference, the meditation usually starts around 7:15 and finishes up around 7:30.
How to Connect to the Zoom meeting:
Once you reserve your ticket you'll receive an emailed confirmation from Eventbrite containing a link to our Online Event Page. On the night of the service, you'll be able to follow the prompts and launch the embedded Zoom player.
Rev. Janet Hariton is an energy healer and certified psychic- medium. She is also a compassionate Spiritualist minister and president of the board of directors for the Spiritualist Church of New York City (SCNYC). She maintains a successful practice as a psychic consultant, clairvoyant, and gifted medium.