Event Information
Location
Times Square New York 575 7th Avenue (@41st Street) The location sits at the corner of 41st Street, between Broadway and 7th Avenue on the 3rd Floor New York, NY
Description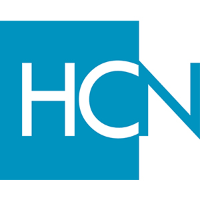 Please join SCN Corporate Connect as we host an Investor ONLY Luncheon for Hotel Communication Network
NO Financial Vendors Please
▪Proven technology commercially deployed in some of the industry's largest hotels
▪80% take up by guests
▪4 of 4 Major Brands Installed or Installing Now
▪Revenue, $600K will grow shortly as our installation moves from 6,000 units to 14,000 units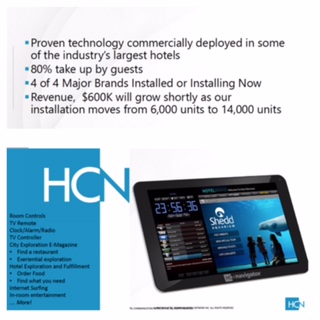 Founded in 2008, with headquarters in Ottawa, Ontario, Canada, The Hotel Communication Network has built on years of research and development to provide an innovative high-value guest amenity that keeps each guest connected to their hotel, city and each other.
Solution In HCN's Innovative & Patented City-Wide Network HCN has created a unique city-wide communication network of guest room tablets with problem solving automation addressing the needs of the hotelier, hotel guest, convention organizer, attendee and sponsor and local advertisers. HCN's solution significantly increases guest loyalty by deploying technology to connect the guest with everything they need in and around the hotel. HCN's patented convention communication helps differentiate the hotel driving more group business. HCN's many automation apps reduce hotel costs, increase efficiencies and generate new revenues.
Urgent Problems Facing The Hotel Industry Lower average room rates and high operating costs are plaguing the hotel industry. Online Travel Agencies are eroding hotel profits badly, and loyalty programs alone are not the solution. Hotels need to find innovative ways to increase customer loyalty, reduce costs and improve efficiencies. Room service and concierges huge cost centers. Many hotels are now cancelling room service, (concierges to follow), creating major opportunities for HCN.
HCN Business Model Removes Barriers HCN has developed a no capital investment, lease/license model that virtually removes the barrier to entry on tightening hotel budgets. HCN's success with revenue share partners and advertising heavily subsidize the cost to the hotelier, while creating diverse recurring revenue for HCN. In addition, HCN's presence in the guest room is a virtual "Monopoly" eliminating competition.
Date and Time
Location
Times Square New York 575 7th Avenue (@41st Street) The location sits at the corner of 41st Street, between Broadway and 7th Avenue on the 3rd Floor New York, NY