SCL Panel: From Screen to Concert Hall: Dramatic Storytelling for Orchestra
About this Event
Join the Society of Composers & Lyricists in New York + the Alliance for Women Film Composers for a panel discussion at New York University.
SCL + AWFC Composer Panel
From Screen to Concert Hall: Dramatic Storytelling for Orchestra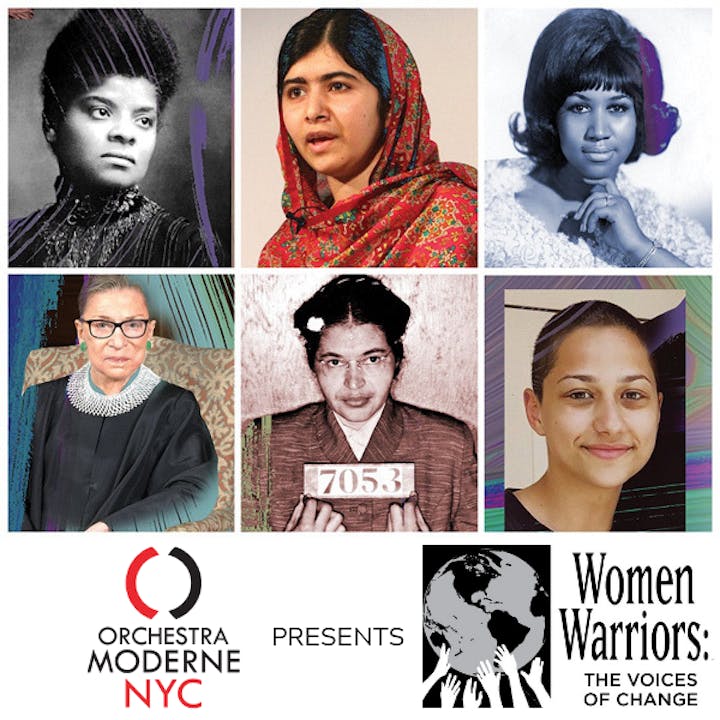 Thursday, September 19
7:00 - 8:30pm Panel
9:00 - 10:30pm Reception
Panel in NYU's Provincetown Playhouse
133 Macdougal Street
New York, NY 10012
Reception in NYU's Pless Hall
82 Washington Square East
New York, NY 10012
The Society of Composers & Lyricists in New York is partnering with the Alliance for Women Film Composers and New York University to offer an exclusive panel highlighting seven women composers. Our discussion and reception are presented in conjunction with a concert event, "Women Warriors: The Voices of Change."
This 80-minute interactive symphonic experience, performed by Orchestra Moderne NYC in Alice Tully Hall on September 20, features historical visuals of women activists fighting for human rights and equality from past to present. Concert tickets are offered separately.
Panelists
Nathalie Bonin is a composer for media and live shows including MPATH Music Library, Groupe Entourage, and Radio-Canada. As a professional violinist, Nathalie Bonin has been a guest soloist with Wynton Marsalis and the Jazz at Lincoln Center Orchestra. She is a member of New York-based jazz quintet Ted Nash and Odeon. www.nathalieboninmusic.com
Emmy-nominated composer Miriam Cutler is passionate about scoring documentaries, among them Emmy winning, Sundance, and Oscar nominated films: Ethel, Lost in La Mancha, Thin, Poster Girl, Kings Point, Ghosts of Abu Ghraib,American Promise, Vito, Desert of Forbidden Art, Scouts Honor, License to Kill, and One Last Hug. www.miriamcutler.com
Anne-Kathrin Dern is a German film composer, currently residing in Los Angeles, California. She is best known for her scores to "The Jade Pendant" (2017), "Lilly's Bewitched Christmas" (2017), and "Help I Shrunk My Parents" (2018), as well as her collaborations with Klaus Badelt, most notably on "Leap!" (2016) and "Wish" (2018). www.annedern-filmcomposer.com
Four-time Emmy Award-nominated Sharon Farber is a celebrated film, TV and concert music composer. Sharon works with networks and cable broadcasters like NBC, CBS, Showtime and the WB as well as writing music for feature films. Her score for the film "When Nietzsche Wept" (Millennium Films) was commercially released and performed live in a film music concert. www.sharonfarber.com
Mandy Hoffman is a visionary composer and songwriter who has been writing for various mediums for over a decade. She has scored numerous films, series, advertisements, and art installations that have appeared in theaters, top film festivals, television networks and galleries all over the world. www.mandyhoffman.com
Starr Parodi has created scores for numerous films, television series, and iconic movie trailers, and her solo work has been featured on NPR, KCRW and iHEART Radio. A trailblazer onstage and in the studio, Starr is the current president of the Alliance for Women Film Composers and is widely recognized as a leader in expanding the reach of women in the arts as a composer, producer, performer and cultural visionary. www.starrparodi.com
Composer Lolita Ritmanis won an Emmy Award for her work on the Warner Bros. series "Batman Beyond" in addition to 10 Emmy nominations. Her projects include music for television, musical theatre, independent film and documentaries, video games, and the concert stage. Lolita is one of the founders of the Alliance for Women Film Composers, serving as president from 2016-2018, and a founding member of Dynamic Music Partners. www.lolitaritmanis.com
Moderator
Greg Pliska is a composer, orchestrator and conductor whose work spans Broadway, film, TV, commercials and pop recordings. He was musical director for the Tony-winning play War Horse, and has contributed score and arrangements to three Shakespeare in the Park productions: Comedy of Errors, As You Like It (with Steve Martin, Drama Desk nomination), and Twelfth Night (with Hem, Drama Desk nomination). His TV and film work includes score and orchestration for the Emmy-winning Life (Discovery), and orchestrations for BAFTA-winner Flying Monsters 3D, narrated by Sir David Attenborough.