SCL Screening + Q&A: ONE NIGHT IN MIAMI... w/Terence Blanchard
About this Event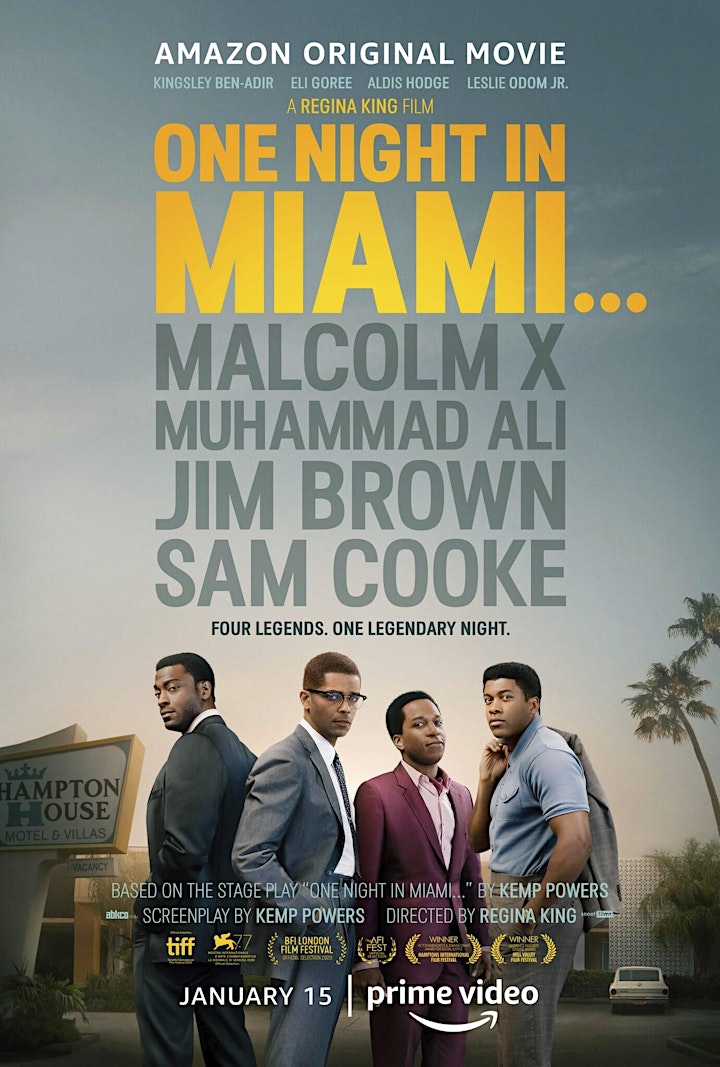 Q&A with Composer:
TERENCE BLANCHARD
Moderated by JOHN HORN (KPCC)
Host of The Frame and Hollywood: The Sequel 
Screening Link provided with Registration Confirmation
YouTube Live Stream Q&A
WEDNESDAY, DECEMBER 2 - 6:30PM PT
On one incredible night in 1964, four icons of sports, music, and activism gathered to celebrate one of the biggest upsets in boxing history. When underdog Cassius Clay, soon to be called Muhammad Ali, (Eli Goree), defeats heavyweight champion Sonny Liston at the Miami Convention Hall, Clay memorialized the event with three of his friends: Malcolm X (Kingsley Ben-Adir), Sam Cooke (Leslie Odom Jr.) and Jim Brown (Aldis Hodge).
Based on the award-winning play of the same name, and directed by Regina King, One Night In Miami… is a fictional account inspired by the historic night these four formidable figures spent together. It looks at the struggles these men faced and the vital role they each played in the civil rights movement and cultural upheaval of the 1960s.  More than 40 years later, their conversations on racial injustice, religion, and personal responsibility still resonate. R | 110min
Trumpeter/composer, Oscar nominee, six-time Grammy-winner and 2018 USA Fellow Terence Blanchard has been a consistent artistic force for making powerful musical statements concerning painful American tragedies - past and present. From his expansive work composing the scores for Spike Lee films ranging from the documentary When the Levees Broke (about Blanchard's hometown of New Orleans during the devastation from Hurricane Katrina) to the epic Malcolm X; and the latest Lee film, Da 5 Bloods, Blanchard has interwoven melodies that created strong backdrops to human stories. More recently, Blanchard composed his second opera, Fire Shut Up in My Bones, based on the memoir of celebrated writer and The New York Times columnist Charles Blow. The libretto was written by Kasi Lemmons and commissioned by Opera Theatre of Saint Louis, where it premiered in 2019. The New York Times has called it "inspiring," "subtly powerful" and "a bold affecting adaptation of Charles Blow's work." The Metropolitan Opera will premiere Fire Shut Up in My Bones on September 27, 2021, making it the first opera composed by an African American composer to premiere at the Met. Blanchard's first opera, Champion also premiered to critical acclaim in 2013 at OTSL and starred Denyce Graves with a libretto from Pulitzer Prize Winner, Michael Cristofer. 
With his current quintet The E-Collective, featured on the score to BlacKkKlansman with a 96-piece orchestra, Blanchard delivered "a soaring, seething, luxuriant score," The New York Times. In Vice Magazine, Blanchard elaborates, "In BlacKkKlansman it all became real to me. You feel the level of intolerance that exists for people who ignore other people's pain. Musically, I can't ignore that. I can't add to that intolerance. Instead, I have to help people heal from it." Some of Blanchard's other film credits include Jungle Fever, 25th Hour, Inside Man, Eve's Bayou, Harriet, Red Tails and Barbershop, and for television the critically acclaimed drama series Perry Mason.
*** IMPORTANT - PLEASE READ ***
FREE for current SCL members (click HERE to check membership status).
Attendees will be emailed a Screening Link upon Registration and a Q&A YouTube Live Stream link on Wednesday, December 2, 10 minutes before Q&A start.
Attendees can ask questions on YouTube chat, and the SCL Host will pass them on to the Moderator. The SCL Member Code of Conduct applies to online Q&As.