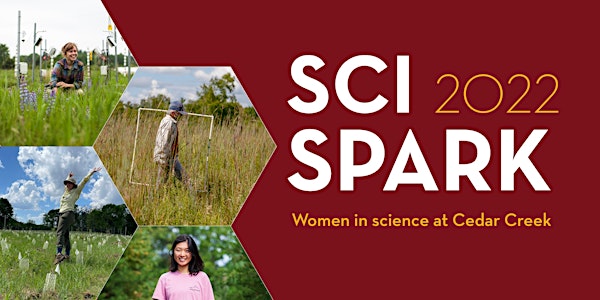 SciSpark 2022: Women in Science
An evening of bio-inspired activities, short science talks and community.
When and where
Location
Bell Museum 2088 Larpenteur Ave W Saint Paul, MN 55113
About this event
Cedar Creek Ecosystem Science Reserve – a site famous for ecological research located just north of the Twin Cities – is fertile ground for scientists to study how ecosystems work and our impact on them. From examining microscopic life to deciphering images from NASA satellites, Cedar Creek researchers (about half of whom are women) study how nature is responding to a changing world. Many women scientists have shaped Cedar Creek's groundbreaking research efforts. Join us for an evening of celebrating the contributions of women in science — past and present — with research ties to Cedar Creek.
EVENT DETAILS
Doors open at 5 p.m.
Activities and food from 5-6:15 p.m.
5-minute lightning talks from 6:30-7:30 p.m.
Note: There will be no access to permanent exhibits or other areas of the museum. Attendees are invited to arrive any time before the start of lightning talks.
The event is family-friendly, great for kids and adults alike, and free!
Do mini-experiments with Market Science volunteers
Participate in hands-on activities with Cedar Creek Ecosystem Science Reserve staff
Explore the Bell Museum's Seeing Birds exhibit
Enjoy light refreshments
About SciSpark
SciSpark is an annual event celebrating diversity in science and a public forum for conversations about how to best support equity and inclusion in science and work toward a future in which all people have opportunities to engage in science.
Organized by the College of Biological Sciences. Sponsored by the Bell Museum and Cedar Creek Ecosystem Science Reserve.