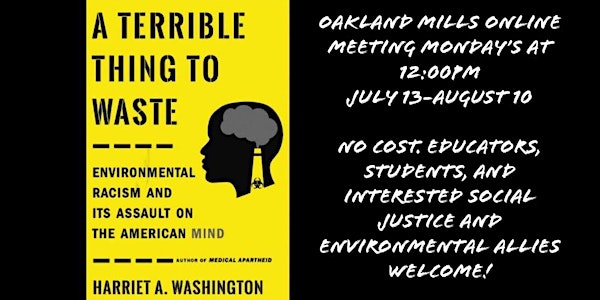 Science/Math Book Study
Join the OMO's Science/Math Book Study. It's FREE to join. The workshop will meet via Zoom on Mondays.
About this event
Join us as we discuss Harriet A. Washington's A Terrible Thing to Waste: Environmental Racism and Its Assault on the American Mind. Suitable for advanced readers, this book will frame discussions between high school and college students, teachers, scientists, and community allies of racial equity and social justice.
Disproportionate exposure to toxins has and continues to marginalize communities of color. In addition to physical harm, chronic health conditions, and early mortality, Williams argues that exposure to toxins influences intelligence, mental health, cognition, and even murder rates. Although environmental toxicity is often depicted as a socioeconomic issue, Williams' evidence shows race is a more significant factor than wealth. Our discussions will center around heavy metals, neurotoxins, pathogens, and nutrition as influencers of intelligence, how communities of color are marginalized by increased exposure to toxic air and water, and what can be done to restore equity.
Read or listen NPR's Sarah McCammon speaks with science journalist Harriet A. Washington about her new book, A Terrible Thing to Waste: Environmental Racism and Its Assault on the American Mind. And another article can be read from here.
Buy your book from:
Hachette Book Group or Amazon.
Here's the schedule for book:
July 20th: page 3-58 (Introduction and Part 1)
July 27th: page 59-158 (Chapters 2 & 3)
August 3rd: page 159-238 (Chapters 4 & 5)
August 13th: page 239-292 (Chapters 6 & 7)
If you don't have a book, it is still okay for you to join and listen!
For other workshops we offer, please visit OMO.