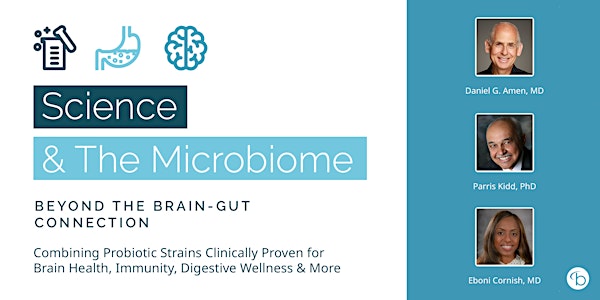 Science & The Microbiome: Beyond The Brain-Gut Connection
Combining Probiotic Strains Clinically Proven for Immunity, Brain Health, Digestive Wellness & More
About this event
Science & The Microbiome: Beyond The Brain-Gut Connection
The human body is a complex biological ecosystem that depends on trillions of friendly bacterial cells. Of the thousands of different bacteria that live on the skin or within the body, the intestinal population, or gut microbiome, has been most studied. Within the past decade, it became clear that the gut microbiome influences the functioning of the brain, immune system, and other organs.
Join brain-imaging specialist Dr. Daniel G. Amen, BrainMD's Chief Science Officer Dr. Parris Kidd, and Amen Clinics functional medicine expert Dr. Eboni Cornish as they explore the intricacies of the gut microbiome and take a closer look at combining probiotic strains clinically proven for immunity, brain health, digestive wellness & more.
This free 60-minute presentation is a great opportunity to hear from leading experts on how to support healthy bacterial balance in the gut, on developments in psychobiotics – probiotics for the brain, and on the science behind BrainMD's upcoming broad-spectrum, immunomodulating probiotic supplement, ProBrainBiotics MAX.
Defense From The Inside Out
Given that our immune system monitors our environment via our gut lining, analyzing the connections between clinically researched bacterial strains and our gut, immune health and brain health is imperative.
What You'll Learn
In this free 60-minute live presentation, you'll discover:
The human body as an ecosystem
Dietary and lifestyle steps you can take to keep your gut microbiome healthy
The clinical research on specific strains of probiotics that benefit mood, healthy immune function, coping with stress, and intestinal health
How to choose a high-quality probiotic supplement
How to feed the "good" bacteria that line your gut
You'll also get an inside look at BrainMD's NEW broad-spectrum, immune-supporting probiotic supplement, ProBrainBiotics MAX.
Event Details:
Date: Tuesday, October 5, 2021
Time: 3 PM PST
Unable to make it to the live event?
A recorded version of the live presentation will be available for viewing following its completion. To access the recording, you must be registered for the event. Secure your video replay by signing up below.
Space is limited. Join the free training today!