Science, Technology & the Future 2013
When and where
Location
RMIT Kaleide Theatre 360 Swanston St Melbourne, VIC 3000 Australia
Refund Policy
Contact the organizer to request a refund.
Description
Science

,

Technology

& the

Future

:

Nov 30 - Dec 1 2013

, Melbourne Australia
What will the future be like?
Right now, the technologies that we use to understand the world are in the process of a major transformation. Almost every field of knowledge is generating vast quantities of data, requiring unprecedented computing power and intelligent algorithms to aid in interpretation. The era of Big Data has well and truly commenced. From predicting future climate, to mapping brain activity, to exploring the universe or simply searching the internet -- Big Data, as the name implies, holds massive potential for future research and it's already here. With immense promise comes great challenges -- one of the foremost being how to sift through the deluge of data to garner meaningful insights and translate them into practical innovations. Working out how to advance into personalised medicine from the human genome project, or create massive simulations of the cosmos from satellite and telescope data will occupy many. We live in extraordinarily exciting times!
Speakers include:
With leading scientists and technologists from various disciplines gathering to speak about the future of science and technology, the conference will be a battleground for the science that matters to anyone with a stake in the future. Our society continues to grapple with the ethical implications of developments in science and technology — we aim to bring clarity. This year we will discuss the promise and perils of machine intelligence, materials science, the future of augmented reality and medicine, and much more.
The Nov 30 - Dec 1 conference takes place in a time of great change, and unprecedented risks to global safety and prosperity. Some of these changes may threaten our survival — but let us take solace that great change brings great opportunities. We have the societal framework to deal with increasingly complex problems, harnessing the accumulated weight of thousands of individuals in fields as narrow as a nanotube and as overlapping as the world wide web. Let us take the opportunity to future-proof our efforts and find sustainable and resilient ways forward.
Immerse yourself within this meeting of great minds!
http://scifuture.org - Nov 30-Dec 1 2013.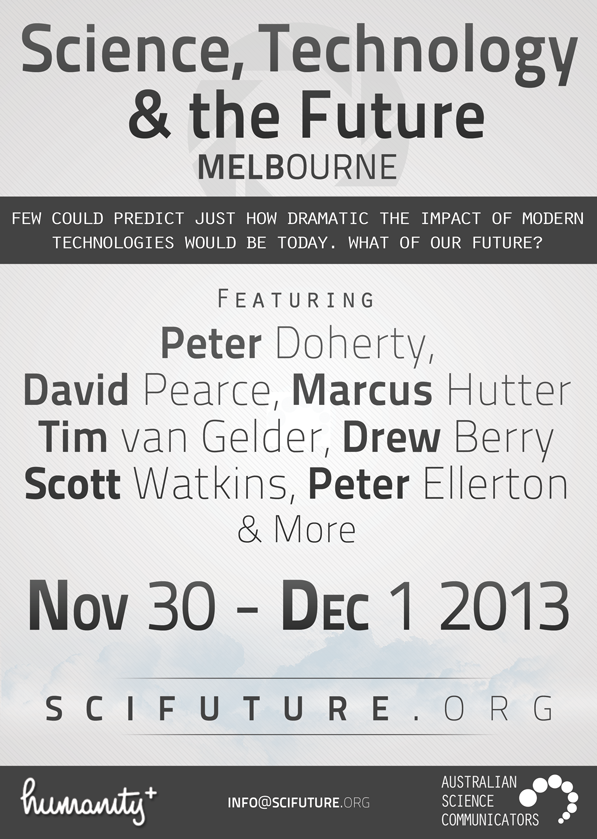 Few could predict just how fast and dramatic the social, economic and political impacts of computer technology have been in out lifetimes.
If present trends are to continue, computers will have more advanced and powerful 'brains' than humans within 25 years.
This Summer, leading scientists, inventors and philosophers will gather in Melbourne to discuss the upcoming 'intelligence explosion' that many now refer to as 'The Singularity'- a technological breakthrough that promises to eclipse previous computing developments with the creation of super-human machines.
Previous conferences 2010, 2011 and 2012 each drew over a hundred local, interstate and international enthusiasts to hear first-rate speakers from a range of fields. In 2013, we have again assembled a stellar line-up - Including Nobel Prize winner Peter Doherty, Philosopher and Founder of WTA David Pearce, leading Artificial Intelligence expert Dr Marcus Hutter and many others.
The conference will explore the important ethical and philosophical dimensions of Science, Technology and the Future (as the name of the conference suggests) - whilst sharing the very latest scientific and technological breakthroughs.
There's simply no better way to glimpse the future of these exciting technologies.
This conference is brought to you by Humanity+ and the Australian Science Communcators.
Humanity+ explores how society might use and profit from a variety of creative and innovative thought.
Join in an exciting weekend as we explore the surprising future. See you there!

And please feel free to pass this on.
"If you go back 500 years, not much happened in a century. Now a lot happens in 6 months." says Ray Kurzweil. "Technology feeds on itself and it gets faster and faster, it's going to continue, and in about 40 years it is going to become so fast, the pace of change is going to be so astonishingly quick that you won't be able to follow it, unless, you enhance your own intelligence by merging with the intelligent technology we have created."
This conference will challenge and enhance your view of the future.
Science, Technology & the Future represents a great opportunity to network with a variety of smart and dynamic groups. For those who are already familiar with the accelerating pace of technological change, the confernece will help broaden peoples awareness of the widening vista of possibilities resulting from technological developments (for instance in biotechnology, nanotechnology and AI).