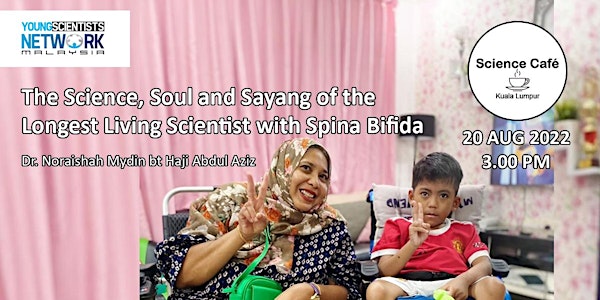 Science, Soul & Sayang of Longest Living Scientist with Spina Bifida-20 Aug
This August Science Cafe KL shares the science behind neural tube development, the efforts & challenges in medical approach, with Dr Aishah.
About this event
In this August Science Cafe KL, come join us as we sit down with Dr. Aishah as she shares the Science behind NTD as well as the efforts and challenges in advocating for a transdisciplinary medical approach to the management of children and persons with spina bifida.
About the Speaker:
Dr. Noraishah is the oldest surviving person in the world with spina bifida. She is the first person with a disability in Malaysia who was granted the opportunity to pursue a Bachelor's Degree in Science (Biology). She is the only person with spina bifida who is also a neurobiologist with a PhD in spina bifida. These are some of the many firsts for Dr. Noraishah, an inspiring, strong-willed and aspirational woman, who is an academic with research interests in neural tube development (NTD). She graduated with a PhD from the University College London in the field of Developmental Neurobiology; medical education and training; and healthcare policy for the disabled and disadvantaged are some of the Loves or "Sayang" of Dr. Noraishah. However, the greatest of her Loves lies in championing the health and welfare of children with spina bifida, which moved her to found the Malaysia NTD which has been a support group for parents or caregivers of children or persons with NTD.