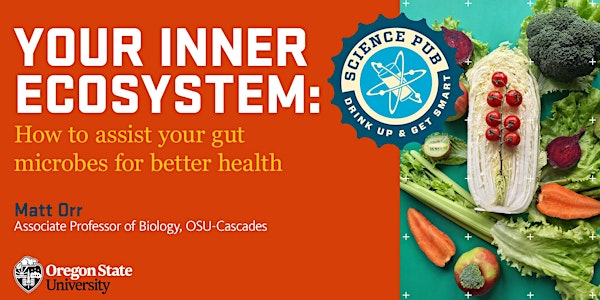 Science Pub - Your Inner Ecosystem
Science Pubs are where you'll meet OSU's leading researchers and delve into their fascinating worlds.
About this event
Speaker:
Matthew Orr, Associate Professor, Biology, OSU-Cascades
Event Description:
Fifty to ninety percent of the cells in your body are microbes. DNA sequencing technology has helped scientists to track the health effects of gut microbiota. Their identity associates with chronic diseases such as diabetes, obesity, inflammatory bowel disease, and cancer. Insights from the field of restoration ecology, which was designed to heal natural ecosystems, may help health practitioners to manipulate the gut microbiome in ways that improve human health. This seminar will review health effects of gut microbes and strategies for improving their performance.
Sponsors of the OSU Science Pub include OSU and OSU-Cascades, and OMSI, with production by Connect Central Oregon, a collaborative program with the OSU-Cascades Innovation Co-Lab.