Description
ABOUT THE COURSE
God has given all of us the ability to heal ourselves and live a healthy and happy life. Today with our overly unnatural lifestyle we have diminished this ability. This is a comprehensive wellness program designed for you to learn how to live your life in harmony of nature and rekindle the ability of your body & mind to heal it. The course will cover:
Know our body and science of natural wellness
Understanding diseases and why we get diseased and how to respond once diseased
Understanding human systems like digestive, circulatory, respiratory, excretory, skeletal system, muscular, nervous, endocrine, and what are the common diseases of each system
Understanding different diagnostic techniques (natural signs and lab tests) of and how to interpret the results?
How to heal ourselves – when should we rely on natural healing and when to consult a doctor?
Natural wellness and methods to heal ourselves – YogaAsan, Pranayam, Mudras, Kriyas with practical demonstration and practice opportunities.
Mind healing and relationship healing techniques.
Taste therapy – Understanding natural taste and how to leverage on that understanding to heal ourselves.
Natural wellness lifestyle with food as our medicine. Understanding nutrition and cooking processes to prepare wholesome, tasty and healing food.
The course will conclude with individualised action plan to charter on natural wellness journey for each participants
Who is it for
Natural wellness is applicable for all ages irrespective of our current state of health. Earlier we start better for us.
Benefits
Take control of our own health
Unleash the healing power of our mind & body
Embark on natural wellness journey and transform to healthy body and happy mind
Duration - 5 full days on Saturdays starting from 21th April till 19th May
Saturdays 21st & 28th April + and 5th, 12th & 19th May
Time - Start 9 AM to 5 PM with lunch and tea provided
Venue- Lecture Venue – #06-01, 1003 Bukit Merah Central, (S) 159836
Practical and demonstration classes - Vyasa Yoga Academy, Civil Service Club #03/05, 60 Tessensohn road, Singapore 217664
NOTE: This is a paid course and payment details will be sent upon registration.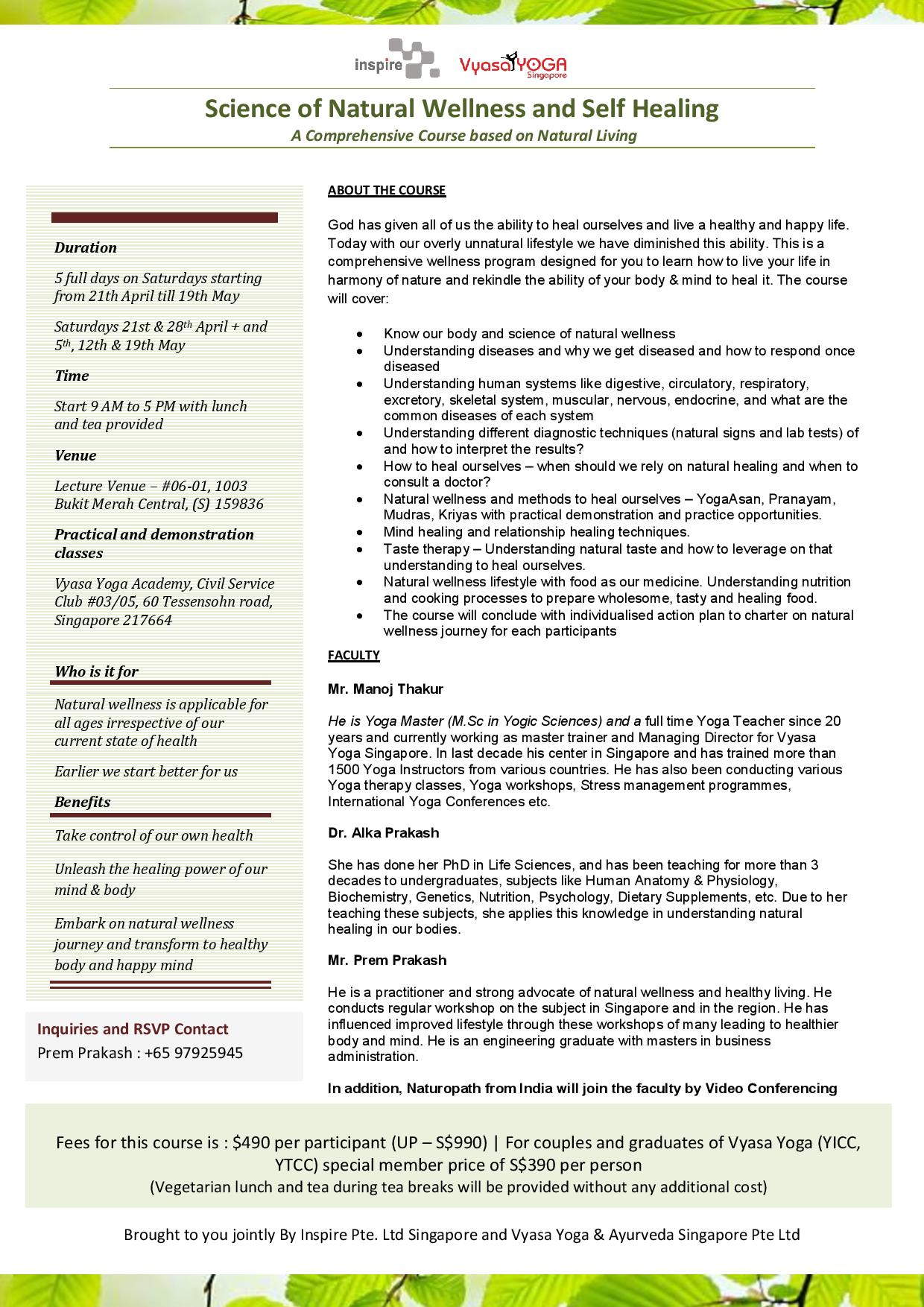 FACULTY
Mr. Manoj Thakur
He is Yoga Master (M.Sc in Yogic Sciences) and a full time Yoga Teacher since 20 years and currently working as master trainer and Managing Director for Vyasa Yoga Singapore. In last decade his center in Singapore and has trained more than 1500 Yoga Instructors from various countries. He has also been conducting various Yoga therapy classes, Yoga workshops, Stress management programmes, International Yoga Conferences etc.
Dr. Alka Prakash
She has done her PhD in Life Sciences, and has been teaching for more than 3 decades to undergraduates, subjects like Human Anatomy & Physiology, Biochemistry, Genetics, Nutrition, Psychology, Dietary Supplements, etc. Due to her teaching these subjects, she applies this knowledge in understanding natural healing in our bodies.
Mr. Prem Prakash
He is a practitioner and strong advocate of natural wellness and healthy living. He conducts regular workshop on the subject in Singapore and in the region. He has influenced improved lifestyle through these workshops of many leading to healthier body and mind. He is an engineering graduate with masters in business administration.
In addition, Naturopath from India will join the faculty by Video Conferencing