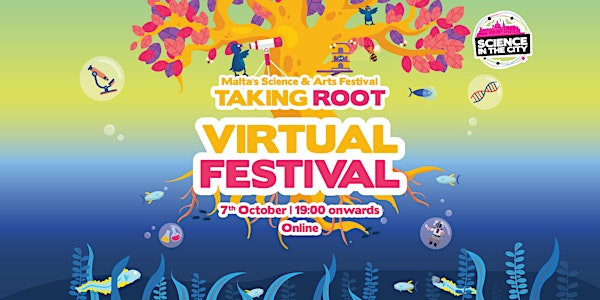 Science in the City — VIRTUAL Festival
If you missed our performances, fret not! You can watch them in October!
About this event
On October 7th, 2022, at 7pm, our performances are resurrected to life once again! For those who came in-person, we hope to fill you with nostalgia. For those who missed it, you can watch at the comfort of your own home!
With his vivid personality, singer-songwriter John Hinton (who collaborated with researcher Alexia Massa-Gallucci) will entertain us through music with the serious topic of climate change. Psychology student organisation Betapsi will empower us to keep fighting for our breaths with their dance "Gasping for air". A dance theatre performance by Sandra Mifsud focus on the need of nature for us to reconnect with ourselves, our creativity and save our planet. Simone Cutajar, Marthese Formosa and Martin Bonnici (Shadeena Entertainment) with their audiovisual experience Solitary Bee takes us on a journey around the Maltese Islands meeting a host of colourful characters. Last but not least, through the EU-funded project JustNature, researcher and performer Moe Soliman will take you and your family on an expedition to the very heart of our planet. With these enticing shows, you will be gently reminded to appreciate and protect the true beauty of our Earth.
By registering on Eventbrite, you will receive a link for our questionnaire and a separate email to watch the performances online!
These events are part of the Science in the City Festival running on Friday, September 30th and Saturday, October 1st. Check out our Website for PRE-FESTIVAL events, STREET Festival, PERFORMANCE Festival, VIRTUAL Festival, VIRTUAL ESCAPE ROOM , and Explore the Arches .
For the full programme of events our FB events tab.
For regular updates please follow our Science in the City social media pages:
Facebook: Science in the City, Malta
Twitter: @SciCityMalta
Instagram: scicitymalta
LinkedIN: Science in the City
Science in the City is part of the EU-wide celebration, European Researchers' Night. It is co-funded by the European Union's Horizon Europe Research and Innovation Programme, under grant agreement No 101061120, the Arts Council Malta (ACM), Esplora STEM Engagement fund and a number of corporate sponsors. It is recognised by Europe for Festivals and Festivals for Europe (EFFE).
The Science in the City consortium is led by the University of Malta and the Malta Chamber of Scientists, in partnership with the Ministry for Education, Sport, Youth, Research and Innovation, Trust Stamp Ltd, Malta Enterprise, MCAST, Qualia Analytics, Esplora, tech.mt, BPC International, SEM, PBS, Spazju Kreattiv, Aquabiotech, Valletta Design Cluster, Valletta Cultural Agency, Transport Malta, The Environment Resource Agency, WasteServ, Heritage Malta and More or Less Theatre.
This communication reflects the author's view and the European Commission is not responsible for any information it contains.
The Science in the City team invites your feedback!
Share your views about the Festival
Registration for this event will also enrol you in an evaluation coordinated by Qualia Analytics (qualiaanalytics.org), a project partner, to help us understand your views about the Science in the City 2022 festival. We ask that you respond to this questionnaire before you attend the festival. After the festival, you will receive another invitation to complete a second survey about your experiences. Each questionnaire should take about 6-8 minutes to complete. As a special thank you, by participating in this survey, you will be automatically entered into a prize draw for one €50 digital gift card.
Science in the City is compliant with the General Data Protection Regulation (GDPR). Your participation is completely voluntary. This survey is limited to individuals who are 16 years of age or older. You may view the privacy policy here. Any questions about this survey, please contact edward.duca@um.edu.mt.
If you have any questions about the research we are conducting for the Science in the City 2022 festival, please email info@scienceinthecity.org.mt