About this Event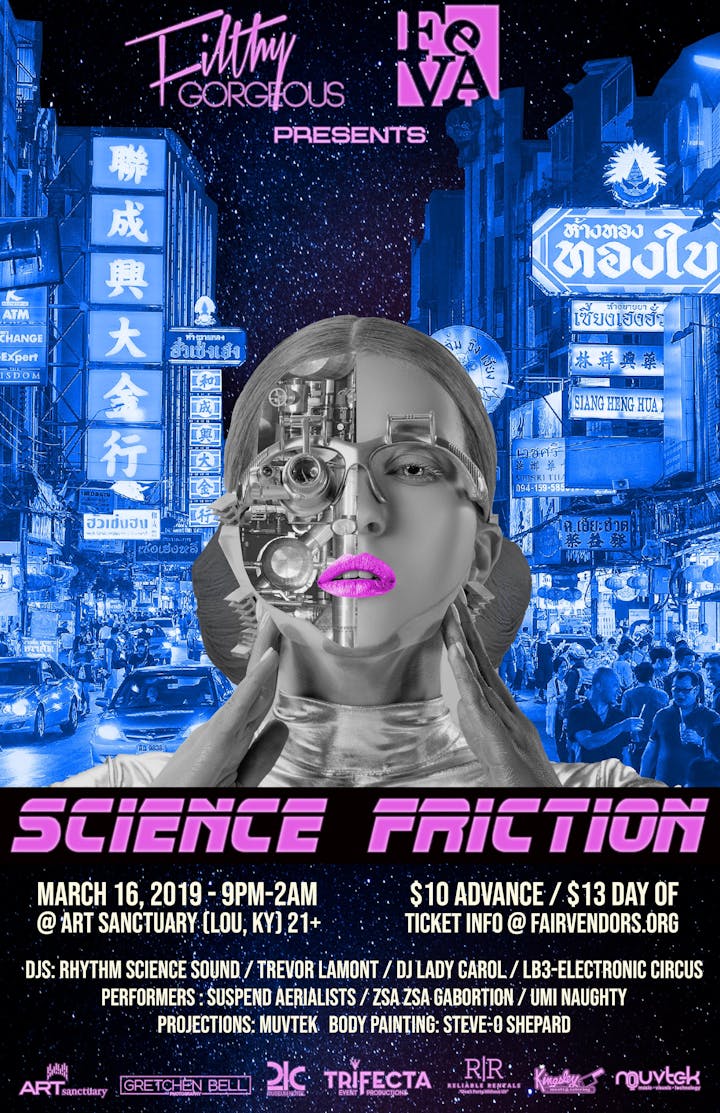 FEVA and Filthy Gorgeous present…SCIENCE FRICTION
March 16, 2019 – 9PM-2AM@ ART SANCTUARY (LOU, KY) 21+
$10 Advance / $13 day of TICKETS @ FAIRVENDORS.ORG
Featuring…
DJS: Rhythm Science Sound, Trevor Lamont, DJ Lady Carol, and LB3-Electronic Circus
DRAG: Zsa Zsa Gabortion, and Umi Naughty
BODY PAINTING: Steve-O Shepard
AERIALS: Suspend
PROJECTIONS: Muvtek
LASER SHOW: Trifecta Events Lighting
SPONSORS: Art Sanctuary, Reliable Rentals, Kingsley's, Trifecta Events Lighting, Muvtek, 21c Museum & Hotel, Gretchen Bell Photography
BENEFITTING: The Fair Event Vendors Alliance (FEVA) (fairvendors.org)*
SCIENCE FRICTION is an innovative fundraising theme party celebrating science fiction. Our dj line-up includes some of the best house and electronic djs in the city, covering a range of genres from soundtracks to new wave, afro-futurism to house, and EDM to dance floor faves! The stunning Zsa Zsa Gabortion and uber talented Umi Naughty will be performing drag to iconic sci-fi soundtrack favorites (Fifth Element anyone?). The aerialists from Suspend will grace us with performances set to epic scores, and finally Muvtek's projections combined with Trifecta's laser show will transport guests to another visual reality!
We're thrilled to have Louisville's favorite body painter, Steve-O Shepard, painting live at the event and offering services for guests! Additionally, we'll have an amazing raffle basket that includes a hotel package at 21c, so bring a little cash for a raffle tickets and of course tips for the Queens!
As with all Filthy Gorgeous events, guests are challenged to bring their utmost outrageous, avant garde sci-fi looks! If you want to kick it FEVA style, come dressed as your favorite sci-fi character! Ultimately, there are no attire requirements, only suggestions.:)
If you need costume inspiration, our favorite sci-fi and our primary source material for the event includes: Star Trek, Star Wars, 2001 Space Odyssey, A Clockwork Orange, Dune, Blade Runner, Blade Runner 2049, Alien, TRON, Mad Max Fury Road, The Fifth Element, The Matrix, Ex-Machina, Black Mirror, Altered Carbon and Stranger Things.
Venue wise, Art Sanctuary is located in the Germantown neighborhood @ 1433 S. Shelby St, Louisville, KY 40217. They have ample street parking, a bus stop at their front door serving line 43, and an ADA compliant van loading space on site.
Ya'll the movie Blade Runner was set in 2019, so the future is NOW!! Science Friction promises to be one of the most innovative, exciting and rapturous parties of the year! Please join us!!
* Fair Event Vendors Alliance is a 501 (c) (6) non-profit which aims to connect the LGBTQ community with local wedding and event professionals, who welcome them as clients and believe in their equality and fair treatment. FEVA provides an online directory of vendors, affordable seminars in LGBTQ competency and inclusive business practices for our members and the public, and promotes the growth of a more inclusive Louisville and Southern Indiana. The proceeds will specifically go to printing the 2019 LGBTQ Competency Manuals, purchasing swag and PR materials for Kentuckiana Pride, and hopefully a brunch event in the fall!