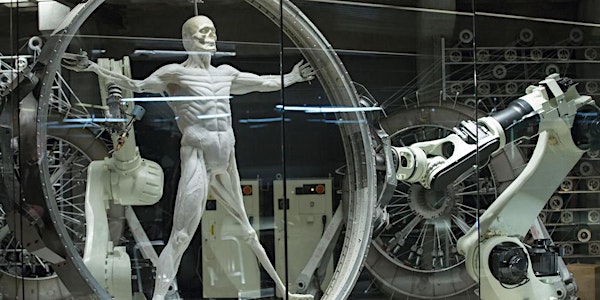 Science Fiction TV Dinner: Westworld
When and where
Location
Interdisciplinary Science & Technology Building IV 900 S Cady Mall Tempe, AZ 85281
Description
Westworld examines timeless dilemmas about free will, individual identity, and the fundamental altruism or savagery of human nature through the lens of artificial intelligence and robotics. Building on motifs from a century of Hollywood westerns, the series is a unique blend of action cinema, philosophy seminar, enigmatic puzzle, and near-future technology.

Join us for a screening and conversation with Alice Daer, digital content strategist and video game scholar, and Ed Finn, director of the Center for Science and the Imagination. We'll watch the second episode of Westworld's first season and discuss how the show imagines new models for immersive and participatory storytelling, its philosophical ruminations, and its stance on the ethics and pragmatics of artificial intelligence and thinking, feeling robots.
We'll have dinner for the first 150 guests.
**Content Warning** Westworld features graphic violence, nudity, and scenes of sexuality. This Science Fiction TV Dinner is not appropriate for kids!
Location: Need help finding the Marston Exploration Theater? Here's a map.
Parking: Parking can be challenging on ASU's Tempe campus. We recommend that you use the Metro Light Rail to travel to the event, disembarking at the University Drive and Rural Road station. You can also use the Valley Metro bus system. If you'd like to explore options for visitor parking on campus, please visit the ASU Parking and Transit website.
Seating: Seating is first come, first served, and your RSVP does not guarantee a seat. So please arrive early, or at least on time!