Location
Studio A - The Community Idea Stations
23 Sesame Street
Richmond, VA 23235
Description
In Studio A of The Community Idea Stations
Science Matters, an educational initiative of The Community Idea Stations is hosting a special Science Pub RVA event -- just one of forty PBS NOVA "Innovation Cafes" occuring this Fall around the country.
Join other curious minds in absorbing something -- food trucks, a cash bar, interactive opportunities and some interesting materials will be on hand to make for an engaging evening.
Science Fiction or Science Fact - with VCU's Dr. Karla Mossi
With modern technology seemingly replicating things that first appeared in futuristic stories from the likes of Star Trek and Batman, many of the fantasies of science fiction appear to have become reality. New materials can revolutionize everything from technology to medicine and can transform the way we live, work, and play.

Using examples of recent scientific advances in material science such as nanotechnology, Dr. Mossi will discuss how science fiction can work with science to promote innovation and give greater understanding of scientific progress.
6:00 pm Eat, Drink, Mingle (Note: All attendees must be at least age 21)
7:00 pm Program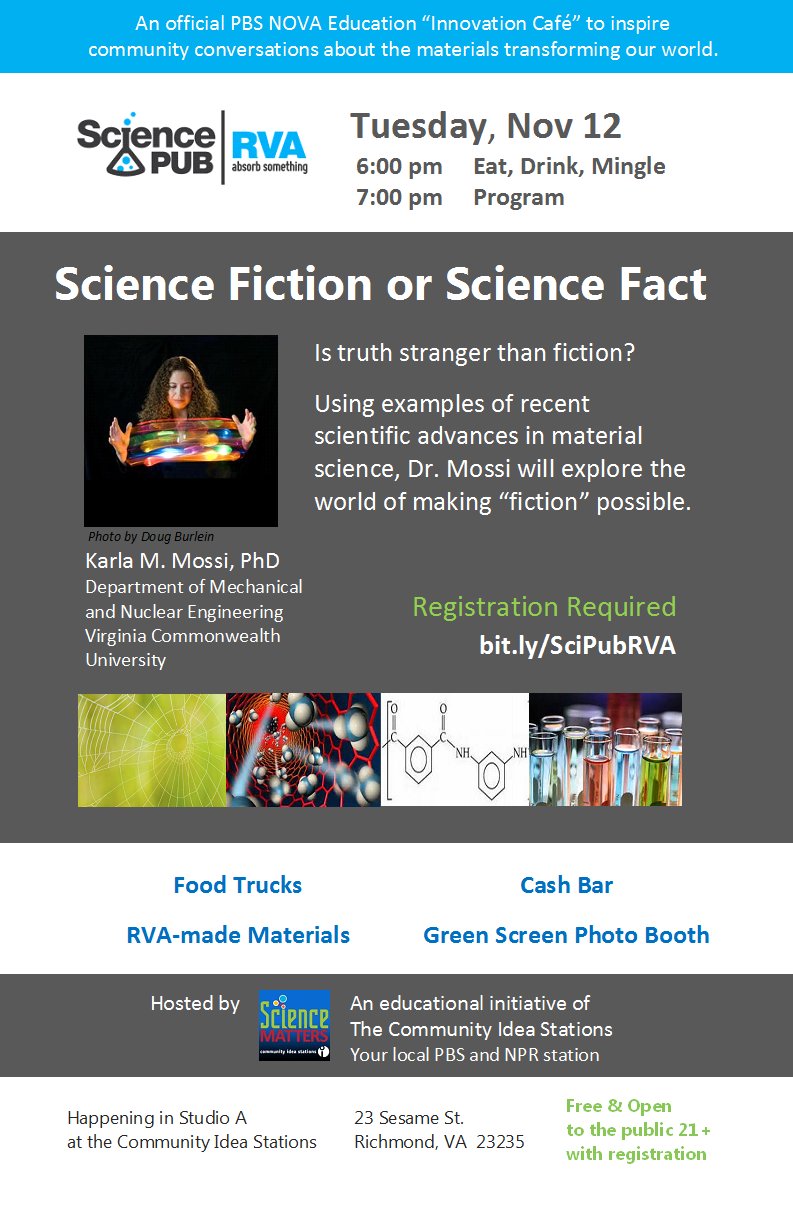 Dr. Mossi is an enthusiastic researcher and educator who became a U.S. citizen in 2005, enjoys eating apple pies and visiting national parks whenever she can with her 6-year-old son. At Virginia Commonwealth University, she serves as an Associate Professor and the Director of Graduate Studies in the School of Engineering's Department of Mechanical and Nuclear Engineering. Dr. Mossi focuses her research on electrical and mechanical characterization of smart materials and their applications in aerospace, automotive, medical and electrical fields. This multidisciplinary field involves materials and their response to different environments and the variation of their properties under different temperatures and boundary conditions (fluid mechanics, controls, equivalent circuits, mechanics of materials).