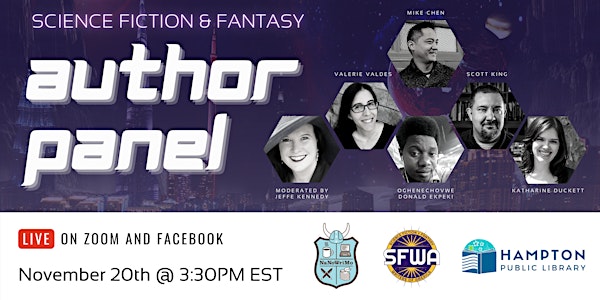 Science Fiction & Fantasy Writers LIVE Author Panel
Join us as we host a live panel with the Science Fiction and Fantasy Writers of America.
About this event
MODERATOR & PANELIST: Jeffe Kennedy
Jeffe Kennedy is an award-winning author whose works include novels, non-fiction, poetry, and short fiction. She has won the prestigious RITA® Award from Romance Writers of America (RWA), has been a finalist twice, been a Ucross Foundation Fellow, received the Wyoming Arts Council Fellowship for Poetry, and was awarded a Frank Nelson Doubleday Memorial Award. She serves on the Board of Directors for the Science Fiction and Fantasy Writers of America (SFWA) as a Director at Large.
PANELISTS:
Valerie Valdes
Valerie Valdes's poetry and short fiction has been featured in Uncanny Magazine and Nightmare Magazine. Her debut novel Chilling Effect was named one of Library Journal's best SF/fantasy novels of 2019, with starred reviews in Kirkus Reviews and Library Journal. The sequel, Prime Deceptions, was published in September 2020. Valerie has served as a Municipal Liaison for National Novel Writing Month for sixteen years. She currently works as a freelance writer and copy editor, and lives in Georgia with her husband, children and cats.
Oghenechovwe Donald Ekpeki
Oghenechovwe Donald Ekpeki is a Nigerian writer and editor. He has been awarded an honourable mention in the L. Ron Hubbard Writers of the Future Contest, twice. His short story won the Nommo award for best short story by an African. He has been published in Selene Quarterly, Strange Horizons, Tor, Uncanny Magazine, Strange Horizons, Omenana and other venues, and has works forthcoming in several magazines and anthologies.He has guest edited and co-edited several publications, including The Selene Quarterly, Invictus Quarterly and the Dominion Anthology.He is a member of the African Speculative Fiction Society, Codex, BFA, the HWA, the BSFA, and the SFWAYou can find him on Twitter at @Penprince_ [twitter.com]
The Dominion Anthology which he co-edited can be gotten here https://aurelialeo.com/shop/94602008172020/
And his novella in it is currently free to read on his website: https://ekpeki.com/2020/08/24/ife-iyoku-tale-of-imadeyunuagbon/
Scott King
Scott King, an international best selling author, was born in Washington D.C. and raised in Ocean City, Maryland. He received his undergraduate degree in film from Towson University, and his M.F.A. in film from American University.
Until moving to follow his wife's career, King worked as college professor teaching photography, digital arts, and writing related classes. He now works full time as an author.
Katharine Duckett
Katharine Duckett is the award-winning author of Miranda in Milan, a Shakespearean fantasy novella debut that NPR calls "intriguing, adept, inventive, and sexy." Her short fiction has appeared on Tor.com and in Uncanny, Apex, PseudoPod, and Interzone, as well as various anthologies including Disabled People Destroy Science Fiction and Wilde Stories 2015: The Year's Best Gay Speculative Fiction. She is the guest fiction editor for Uncanny's Disabled People Destroy Fantasy issue, and is an advisory board member for The Octavia Project.
Mike Chen
Mike Chen is the author of Here And Now And Then (a finalist for Goodreads Choice - Best Sci-Fi, CALIBA Golden Poppy, and the Compton Crook Award) and A Beginning At The End ("a brilliant, fragile path through the darkness" -- Library Journal). His short fiction is featured in Star Wars: From A Certain Point Of View -- The Empire Strikes Back, and he has covered geek culture for sites such as Tor.com, The Mary Sue, and StarTrek.com. In a previous life, he covered the NHL for Fox Sports, SB Nation, and other outlets. A member of SFWA, Mike lives in the Bay Area with his wife, daughter, and rescue animals. Follow him on Twitter and Instagram: @mikechenwriter