Science can DANCE!

Sunday, November 1, 2015 from 10:00 AM to 3:00 PM (PST)
Event Details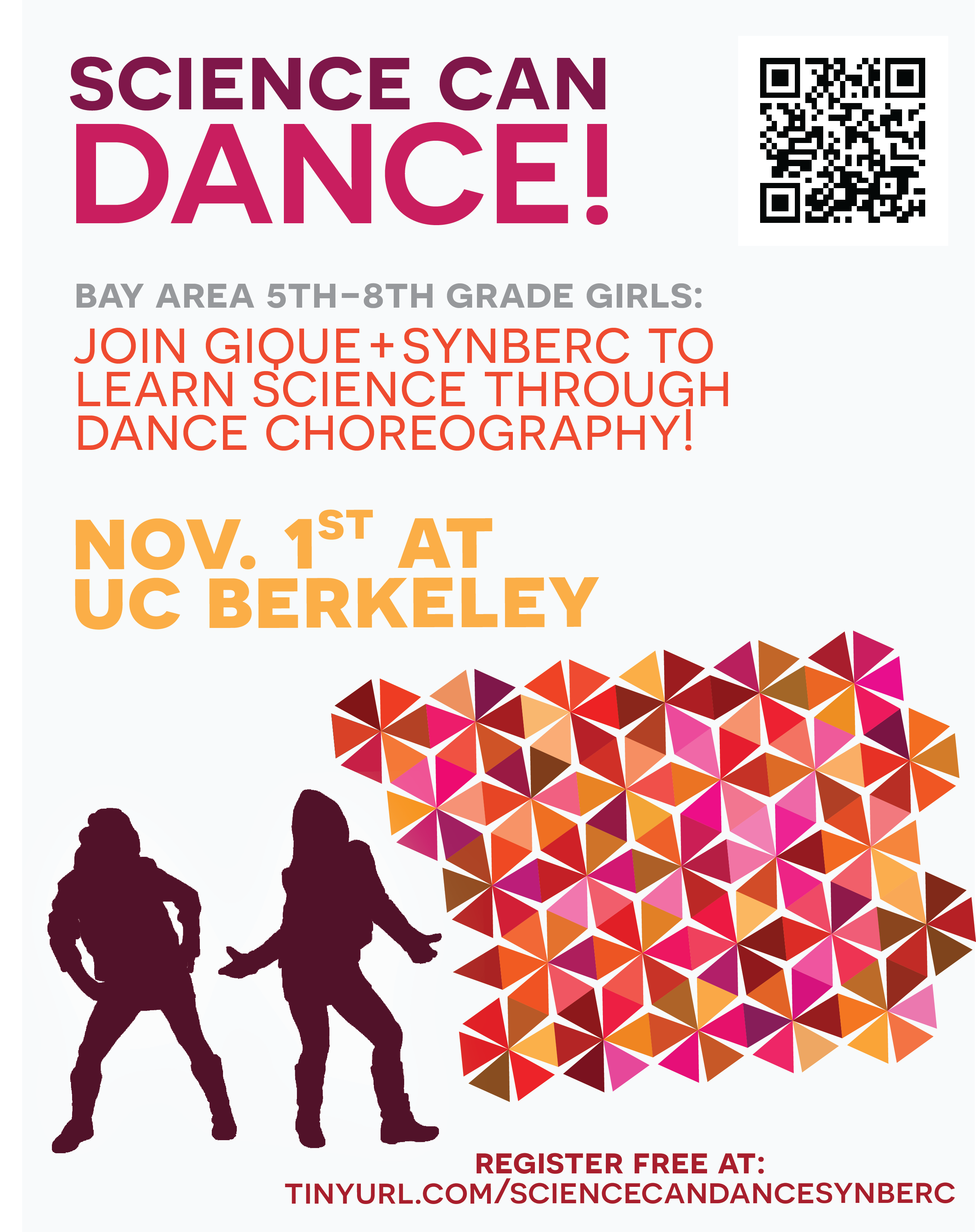 We invite 5th to 8th grade girls in the San Francisco area to join Gique and Synberc on Nov. 1st for an exciting day exploring science through dance choreography! This workshop is a collaboration with the Synthetic Dance-ology project which engages the public of synthetic biology through creative movement and dance. Girls will enjoy a keynote speech from Weidong Yang - Founder of Kinetech Arts, 2 dance choreography workshops, & a discussion session with local dancers who are also scientists. At the end of the workshop, parents/guardians are welcome to enjoy a performance by the attendees! For more information, please visit the event website.
Registration is limited to 5th to 8th grade girls only. 
Cost: FREE!
Date: November 1st, 2015
Event Sponsor


Guest Speaker & Choreographers
Weidong Yang, Guest Speaker
Weidong Yang is a San Francisco based scientist, dancer and choreographer. He received his Ph.D in Physics and Master in Computer Science, was a postdoctoral fellow at University of California, Berkeley researching quantum dots. He is the founder of Kinetech Arts, a collective of dancers, artists, engineers and, and Kineviz, with the mission of bringing wonder to data. As a dancer, he has performed with various dance companies including KUNST-STOFF and Paco Gomes.
Shaila Kotadia
Shaila Kotadia received her Ph.D. in Genetics and Development from the University of Texas Southwestern Medical Center and conducted a postdoctoral fellowship at the University of California, Santa Cruz where she began combining science and dance to teach students complex scientific concepts. At her current position as the education and outreach manager at the Synthetic Biology Engineering Research Center (Synberc), Shaila co-founded Synthetic Dance-ology in collaboration with FACT/SF and Ahdanco dancer Amanda Whitehead. Read and watch more about Synthetic Dance-ology and other science and dance projects by Shaila.
Katharine Hawthorne
Katharine Hawthorne is a San Francisco based dancer and choreographer who likes to watch thinking bodies in motion. She received early training through the Royal Academy in Singapore, and continued her studies at Ballet Arts Minnesota under Bonnie Mathis, the San Francisco Conservatory of Dance under Summer Lee Rhatigan, and with master Cunningham teacher Diane Frank. Katharine currently dances with Liss Fain Dance, and has previously appeared with Hope Mohr Dance, Sharp & Fine, Ledges and Bones, and James Sewell Ballet among others. She has presented her creative work widely in the San Francisco Bay Area, Minneapolis, Chicago, New York, Brown University, Greece, Argentina, Montréal, and Italy. Hawthorne holds a B.S. in Physics and Dance, with honors, from Stanford University. 
Helen Rankin
Helen Rankin completed her Ph.D. in genetics at Yale University, studying organ size control in the fruit fly wing. She is now a postdoctoral fellow at University of California, Berkeley studying the role of autism genes in brain development. A dancer since a young age, Helen was trained in Graham and Limon modern dance technique as well as classical ballet. Helen also loves performing in musical theater shows, studying jazz and tap when appropriate for roles. Dancing science is Helen's dream combination.
Ashli Davis
Ashli Davis is a Boston native who enjoys combining her love for dance with her passion for STEM. She received her Bachelor's degree in Chemistry from MIT in 2012 and now works as a Process Development Associate at the Broad Institute's Technology Development Lab in Cambridge, MA. She is also a choreographer and Zumba instructor in the Boston area. While at MIT, Ashli performed and competed with several hip-hop dance teams at MIT and throughout the Boston area.
When & Where

Valley Life Sciences Bldg

Berkeley, CA 94720


Sunday, November 1, 2015 from 10:00 AM to 3:00 PM (PST)
Add to my calendar
Organizer
An annual celebration of science with dozens of events stretching from Santa Rosa to San Jose. This festival does for science what arts festivals do for film, literature, painting, and music: it engages attention, inspires interest, and fires imagination across entire communities by offering large numbers of activities and events during a short period of time (Think festival – not science fair!). The 2016 festival stretches from 10/27-11/5/16.