Science at the Theater - Eight Big Ideas, Oct. 28

Monday, October 28, 2013 from 7:00 PM to 9:00 PM
Event Details
We have reached the maximum number of RSVPs, but we still encourage you to attend because not all RSVPs attend.  Also, you can watch the event live online.  We'll be streaming it here starting at 7 p.m.
You can even send in questions during the event. Tweet to @BerkeleyLab or email AskBerkeleyLab@lbl.gov.
Eight Berkeley Lab scientists present eight game-changing concepts in eight minutes each. Join us for a fast-paced evening of wonder and awe.
Admission to the 7-9 pm event is free.
Please print your ticket or have your ticket downloaded to your smartphone so we can scan the barcode as you enter the theater.
Speakers include:
Peter Nugent - Supercomputing and the search for supernovae
Seung-Wuk Lee - Generating electricity from viruses
Peter Ercius - Imaging atoms in 3-D
Ben Bowen - Coming to a hospital near you: mass spectrometry imaging
Kristin Persson - A Google for materials
Ian Hinchliffe - The Higgs and all that. How the universe works and why                                        we should care
Rebecca Abergel - A pill to treat people exposed to radioactive materials
Jeff Urban - 1 + 1 = 3. Hybrid materials for energy applications
We welcome your interest in this special event. We also urge you to forward information about the event to friends and colleagues who might share your interest in the scientific developments at Berkeley Lab.
If you also have an events calendar, we would appreciate a posting.
Please note that RSVP holders will be given priority seating starting at 6:30 pm. Seats will be released on a first-come, first-served basis at 6:50 pm.
Thank you.
-Jeff Miller, Head of Public Affairs, Berkeley Lab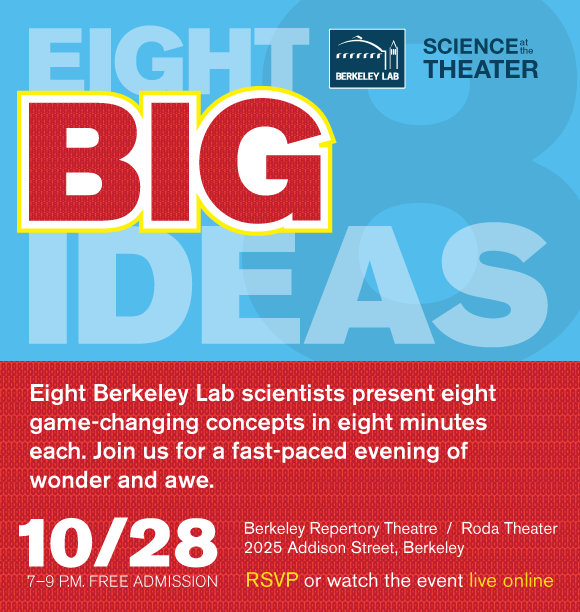 When & Where

Berkeley Repertory Theatre, Roda Stage (the large stage)
2025 Addison St
Berkeley, 94704


Monday, October 28, 2013 from 7:00 PM to 9:00 PM
Add to my calendar
Organizer
Lawrence Berkeley National Laboratory
Science at the Theater - Eight Big Ideas, Oct. 28