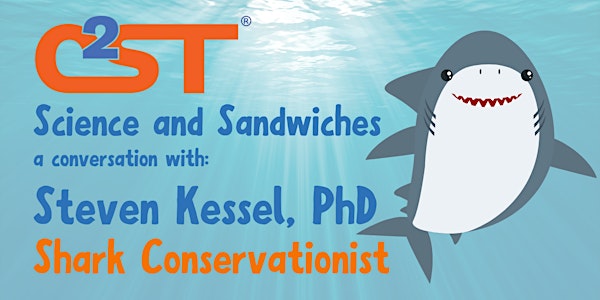 Science and Sandwiches featuring Steven Kessel, PhD
Dr. Steven Kessel joins C2ST to discuss his work as a marine researcher, shark conservationist, and other stories from the field.
Refund Policy
Contact the organizer to request a refund.
Eventbrite's fee is nonrefundable.
About this event
Join C2ST and Dr. Steven Kessel for our monthly Science and Sandwiches Program! On the first Friday of every month, we will be sitting down with an expert during the lunch hour to chat about life, about science, careers, a day on the job, and whatever else you're interested in learning about them--within reason, anyways.
Dr. Steven Kessel is the Director of Marine Research at Shedd Aquarium, where he oversees researchers working to protect culturally and economically important species in the Bahamas, like the Nassau grouper, queen conch and corals. In addition, Dr. Kessel conducts his own research on Caribbean sharks in an effort to protect these keystone species. Through research done around the globe, Dr. Kessel has come face-to-face with Lemon sharks, manta rays, and lake sturgeon, earning a well-deserved reputation as a conservation scientist.
At C2ST, we believe that access to experts is important in ensuring that science is for everyone, which is why we want to host these conversations. We encourage you to grab some grub, make yourself comfortable, tune into the conversation, and if you're up for it, ask a question.
Event Details
Friday, August 6th from 12:15 – 12:45 pm CT, hosted through Zoom.
In order to receive a Zoom link to attend this program, you must register on this page! You will receive the link upon registering, and an hour prior to the event. We plan on allowing you to ask questions of our expert yourself during the program!  To support STEM programs like this, you can DONATE to C2ST HERE!
We are dedicated to providing an inclusive environment for everyone. Please respect diversity in individuals and in cultures.
Featured Speaker
Steven Kessel, PhD
Dr. Steven Kessel has worked extensively with a wide variety of marine species and has a well-established reputation as a conservation scientist. He joined Shedd Aquarium's Daniel P. Haerther Center for Conservation and Research in 2017 to oversee a suite of marine conservation research projects aimed at protecting important species in the Bahamas, including the endangered Nassau grouper and threatened queen conch.
Kessel also leads his own original research project to better understand Caribbean shark species in an effort to protect them. He has led and assisted with studies of lemon sharks, Red Sea sharks and manta rays and helped develop conservation management programs for several species.
Kessel has a Ph.D. in marine ecology and biology from Cardiff University, UK. Following the completion of his degree in 2009, he spent two years at Cardiff as a postdoctoral fellow, acting as the principal investigator for the Jupiter Large Coastal Shark Species Study, which investigated the biology and ecology of large coastal shark species residing off the eastern seaboard of the United States.