The great writer and campaigner Alastair McIntosh has agreed to join us for chat at the end of October.
About this event
Alastair will discuss his latest book, Riders on the Storm, which weaves together science, politics and spirituality to offer a scintillating discussion of ways forward on Climate.
Many of you may know Alastair's for his work with Galgael, the Centre for human ecology, his landmark book Soil and Soul or his many broadcast appearances. You may not be aware he has a long connection with SCIAF, and used to be on our management committee in the 80s.
Organizer of SCIAF lunchtime Q&A with Alastair McIntosh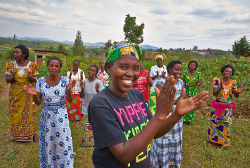 Working in Africa, Asia and Latin America, in some of the world's poorest communities, we give families tools, seeds and training so they can grow enough food.
We help young people to go to school, and set up skills training so people can make a living. Where communities have been torn apart by war we help them to rebuild and live in peace.
When natural disasters strike we work through the global Caritas network to get life-saving help to those who need it most.
Here in Scotland we campaign on the issues which make, and keep people poor like climate change and unfair trade.