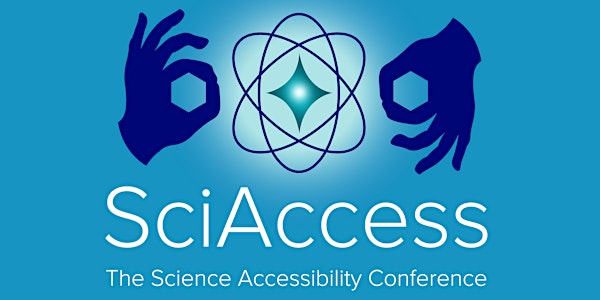 SciAccess 2021 Conference
SciAccess 2021 is an international virtual conference dedicated to advancing disability inclusion and equity in STEM! November 12 and 13.
Refund Policy
Contact the organizer to request a refund.
Eventbrite's fee is nonrefundable.
About this event
WHEN: SciAccess is a 2-day conference taking place on November 12th & 13th.
WHERE: This will be a virtual conference hosted on Zoom.
CONFERENCE GOALS: This interdisciplinary, international conference is dedicated to exploring the ways in which science and STEM as a whole can be made more accessible, particularly for individuals with disabilities. SciAccess aims to address societal and educational barriers to science faced by students, professionals, researchers, and members of the public who have disabilities.
WHO: The conference's objective is to bring together students, educators, professionals, researchers, and members of the public who are interested in sharing best practices for equitable access to STEM. This event is designed for everyone and anyone who wants to advance inclusion in science and the STEM fields.
WE ARE EXCITED TO ANNOUNCE that the 2021 conference will feature over 40 speakers, including keynote addresses from Virgin Galactic Astronaut Sirisha Bandla, Blue Origin Astronaut Chris Boshuizen, MacArthur Genius Joshua Miele, and Mission Director and AstroAccess Ambassador Apurva Varia, shown below.
For more details on our 2021 conference, please visit sciaccess.org.
For scholarship opportunities, visit https://sciaccess.org/scholarships/.
In 2020, the SciAccess Conference reached over 1,000 registrants from 46 nations and all 7 continents, as shown below. Previous speakers include Dr. Soyeon Yi, South Korea's first and only astronaut, Anousheh Ansari, the first female private space explorer, and Dr. Temple Grandin, renowned autism advocate and animal scientist.
Join us for an interactive conference dedicated to advancing disability inclusion and equity in STEM.
Get in touch at thesciaccessconference@gmail.com
Previous conference attendee testimonials:
"This is the best conference I attended all year!"
"[SciAccess] shaped the biggest goal I've crafted for my life so far."
"SciAccess has totally changed my life path—[I am now] looking exclusively at grad programs where I can learn more about disability justice."
"I left the conference feeling energized with tons of new ideas for my current outreach endeavors, future career goals regarding inclusion, and my own research and personal life."
"Representation matters. When I was a child, all I wanted was to know that there were others out there like me. Finding other college students with a disability in STEM fields seemed like a laughable aspiration, while finding an engineer with 14 disabilities like me seemed unfathomable. I was told again and again that people like me just don't go to college. Initiatives like SciAccess put a blinding spotlight on this faulty rhetoric. SciAccess brings the STEM/STEAM community out of the shadows and constraints of false societal expectations and into the light of building a better world.
SciAccess facilitates this imperative conversation, helping community members take part in the future they want to belong to by giving them opportunities to lead the way. SciAccess' impact for me was not just a singular conference but the start of an ongoing conversation that embeds a sense of belonging and empowers the community to feel security and support to fight for change. When SciAccess occurred, I knew it could be a game-changing conversation starter for my marginalized STEM family. I knew my voice, and the community's, would not fall silent with SciAccess' success. My expectations were not disappointed—nor have they ever been in all the days since because SciAccess acts as a linchpin."