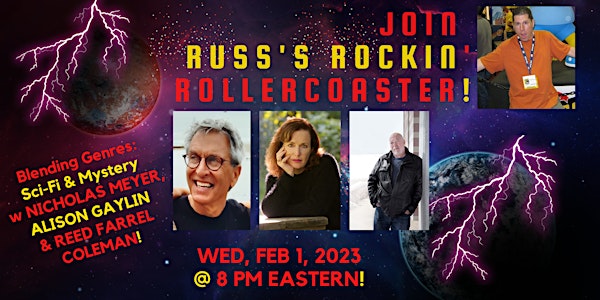 Sci-Fi + Mystery w NICHOLAS MEYER, ALISON GAYLIN, REED FARREL COLEMAN
Host Russ Colchamiro leads an all-star panel w Nicholas Meyer, Alison Gaylin & Reed Farrel Coleman to discuss the blend of scifi and mystery
About this event
NICHOLAS MEYER is an award-winning author, screenwriter and director. His body of creative work in publishing, film and television spans more than five decades, including STAR TREK: THE WRATH OF KHAN, TIME AFTER TIME, THE DAY AFTER, and THE SEVEN PERCENT SOLUTION. His new Sherlock Holmes novel, The Return of the Pharaoh from the Reminiscences of John H. Watson, M.D. was published by Minotaur Books in November 2021.
USA Today and international bestselling author ALISON GAYLIN has won the Edgar and Shamus awards. Her short stories have been chosen for Best American Mysteries and Suspense and Best Mystery Stories of the Year. Her book The Collective has been optioned by Yellow Bird UK (the Millennium Trilogy) for development as a TV series. And in addition to her next standalone (out in 2024 from William Morrow) she's at work on the latest installment in Robert Parker's Sunny Randall mystery series, Bad Influence, which is scheduled for release in June of '23.
REED FARREL COLEMAN is the New York Times Bestselling author of thirty-one novels including six in Robert B. Parker's Jesse Stone series. He is a four-time recipient of the Shamus Award for Best PI Novel of the Year. He is a two-time Thriller Award nominee and a four-time Edgar Award nominee in three different categories. He has also received the Scribe, Audie, Macavity, Anthony, and Barry Awards. He is a former Executive Vice President of Mystery Writers of America, a founding member of MWA University, and a former adjunct instructor at Hofstra University. Reed has worked at the cargo area at JFK International Airport—See Goodfellas—driven a home heating oil delivery truck, been a waiter, bartender, and baby food salesman. Brooklyn born and raised, at fifteen he watched someone die of a gunshot wound. Reed lives with his wife on Long Island.
RUSS COLCHAMIRO is the author of Crackle and Fire, Fractured Lives, and Hot Ash, the first three novels in his ongoing Sci-Fi noir series featuring hardboiled private eye Angela Hardwicke. He is currently working on the fourth Hardwicke novel.
A member of Crazy 8 Press, Mystery Writers of America, and Private Eye Writers of America, Russ is also the co-author and editor of the noir novella collection Murder in Montague Falls, editor of the Sci-Fi mystery anthology Love, Murder & Mayhem, has contributed short stories to more than fifteen anthologies, including various Hardwicke mysteries, and is the author of the Sci-Fi adventure novels Crossline, Finders Keepers, Genius de Milo, and Astropalooza.
Russ also hosts his popular Russ's Rockin' Rollercoaster podcast, interviewing a who's who of science fiction, crime, mystery, and horror authors.
He lives in Northern New Jersey with his wife, two ninjas, and black lab, Jinx, who may be an alien herself.