Location
Schuylkill River Trail
140 College Dr
Pottstown, PA 19464
Sales Have Ended
Registrations are closed
We're sorry, ticket sales are now closed for this event.
Description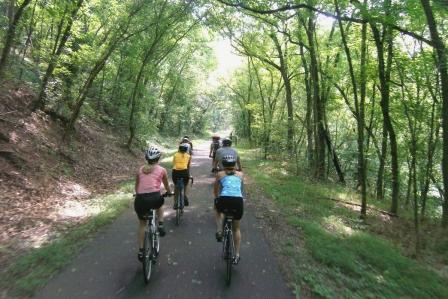 Support the Schuylkill River Heritage Area with a round-trip bike ride along the Schuylkill River Trail from Pottstown to Birdsboro that includes a presentation about the railroad upon whose right-of-way the trail is built, with optional walking tours.

This is the first ride in the Schuylkill River Trail Bike Tour Series, a new multi-year series being organized by the Schuylkill River Heritage Area. Each event will feature a unique combination of biking and history.
This year cyclists will learn about the fascinating history of the Pennsylvania Railroad through a brief presentation by Bob Thomas. Three ride options make this a great event for riders of all experience levels! They include:
An 18-mile, round-trip ride ride from the Schuylkill River Heritage Area headquarters in Pottstown to Birdsboro, where participants will take a 45-minute guided walking tour of Birdsboro's historic downtown.


A 20-mile ride from Pottstown to Birdsboro, with a loop trail in Union Township and no walking tour.

A 9-mile ride with guided tour of Historic Morlatton Village's four 18th Century buildings

Brochures will be available for participants who also want to take a self-guided walking tour of Pottstown.
Fee is $25 for adults (aged 16 and up); $20 for members; $15 for children ages 11-15. Children 10 and under free.
Price includes refreshments in Pottstown and Birdsboro. Complimentary pre-ride bicycle safety checks provided by Tri-County Bicycles. Register by September 5 to receive a free T-shirt! Registration after September 5 is $30 for adults, $20 for children, no free T-shirts.

Registration closes September 21 at noon. There will be no day of event registrations!
Helmets are required. Due to the width of the trail, no bicycle trailers are permitted.

Please note: Rain Date is September 23rd!