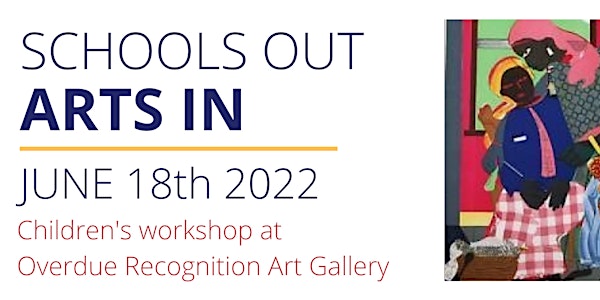 SCHOOL'S ART/ ART'S IN
School's Out/ Art's In Children's Art Work Shop
When and where
Location
Overdue Recognition Art Gallery 15402 Emerald Way Bowie, MD 20716
About this event
Date: Saturday, June 18th 2022
11am to 2pm
This Art Workshop Event is for children 6- 11 years old.
Children will interactively explore the works of Romare Bearden while having lots of fun creating a masterpiece of their own.
The exploration will include looking at art by African American Masters including Romare Bearden, a sample question may include: If you were standing in this room, what sounds do you think you would hear? What might you smell?
Children will take home a masterpiece that they will create inspired by Romare Bearden. All material included.
the event will be led by artist Brittney Russell
Children will also receive a free book, Come Look with Me, reminding us that no child is ever too young, to start looking at, learning about, and talking about African American art!
Cost $68 seating is limited!
for more information contact Sade at the Gallery
(301)383-2875
Overdue Recognition Art Gallery
15402 Emerald Way, BOWIE TOWN CENTER, Bowie, Maryland 20716