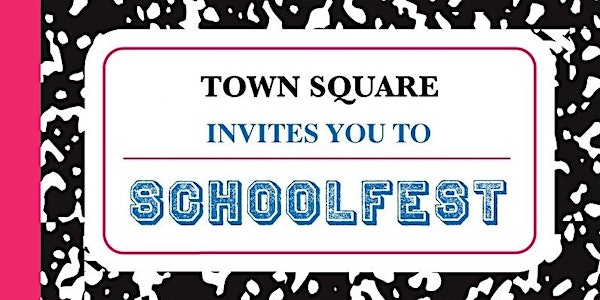 Schoolfest 2021 Admissions Tx
SCHOOLFEST 2021, a one-of-a-kind school fair for North Brooklyn students and parents.
When and where
Location
John Ericsson Middle School 126 424 Leonard Street Brooklyn, NY 11222
Refund Policy
Refunds up to 30 days before event
Eventbrite's fee is nonrefundable.
About this event
SCHOOLFEST 2021
Saturday, November 6 | 12 to 4 PM
John Ericsson Middle School126 
424 Leonard Street, Brooklyn NY 11222
Now in its 14th year, Schoolfest is a one-of-a-kind school fair for North Brooklyn students and parents.  All public schools, charter schools, private schools, early childhood centers and extracurricular activity providers are invited to a single venue in Greenpoint/Williamsburg, Brooklyn.
SCHOOLFEST IS FREE TO ATTEND BUT YOU MUST HAVE A TICKET for specific 2-hour sessions. You are welcome to get as many tickets as you want and for as many different 2-hour sessions as you need. But please keep in mind that tickets are limited and we ask that you carefully consider your options. ** EVERYONE MUST HAVE A TICKET, INCLUDING BABIES **
WHO SHOULD ATTEND SCHOOLFEST?
Are you a parent, grandparent or caretaker trying to learn more about the schools in Greenpoint and Williamsburg?
Are you struggling to understand and navigate the complex NYC school system and admission process?
Are you interested in finding out about afterschool enrichment options?
Are you interested in finding out about local educational services and products? 
Schoolfest is the expo for you!
WHAT MAKES SCHOOLFEST SO VALUABLE?
Schoolfest offers a supportive networking and informational experience for both exhibitors and parents.
Schoolfest allows our neighborhood schools to share new information and projects with each other so that our entire district may benefit.
Most importantly, Schoolfest understands that parents can often be overwhelmed by school choices and admission processes.  Schoolfest helps parents navigate through the confusion so that they can make the best choice for their child's educational needs
SCHOOLFEST FACTS FOR PAST YEARS
Many schools, enrichment providers, organizations and partners.
Hundreds of students, parents, teachers, and professionals attend. 
Informative workshops by highly regarded educational professionals.
Unique chance to meet many schools and enrichment providers in one day,and narrow your search effectively.  
Located at John Ericsson MS 126, located across the street from McCarren Park Pool in the heart of Greenpoint & Williamsburg, Brooklyn.
SCHOOLFEST THIS YEAR
Early Childcare Centers: City Kids NYC, JCC Brooklyn North Williamsburg, Kiddie Academy of Williamsburg, Small World DCC, St. Stanislaus Kostka Catholic Academy, The Mount Carmel Early Childhood Center, Williamsburg Northside Schools, Y.M.&Y.W.H.A. of Williamsburg Head Start
Elementary Schools: BASIS Independent School, PS 18 Edward Bush, PS 34 Oliver H. Perry, P.S. 250 George H. Lindsay, St. Stanislaus Kostka Catholic Academy, Williamsburg Northside Schools.
Middle Schools: BASIS Independent School, IS 318, MS 50, MS 126, St. Stanislaus Kostka Catholic Academy, Uncommon Schools NYC, Williamsburg Northside Schools
High Schools: BASIS Independent School, PROGRESS High School, The Brooklyn Latin School, The High School for Enterprise, Business & Technology, Uncommon Schools NYC, Williamsburg School of Architecture and Design. High school students will be on hand to share their experiences at Brooklyn Technical High School, Midwood High School, Millenium Brooklyn High School, Stuyvesant High School, etc.
Enrichment Providers: Brooklyn Public Library, CAMP - Creative Arts and Music Programs, Girl Scouts (Troops 2030/2996/2966), Queens Zoo, School of Rock Williamsburg, Scouts BSA (Packs 7 & 996, Troops 1G, 26B, 996B & 996G), The Geek Forest, The TEAK Fellowship
Other Service Providers: Brooklyn District Attorney, Greenpoint YMCA, Kids and Kaboodles LLC, Marsha P. Johnson State Park, NYC Department of Education-Outreach and Community Relations Team, NYC Department of Health, NYC Department of Transportation, New York Allergy & Sinus Center, NY School Help, NYC DOE D79 Adult Education, NYC DOE Office of Food & Nutrition Services, NYC Environmental Protection, NYC Parks and Recreation, QUALITYstarsNY, St. Nicks Alliance
COVID-19 CONSIDERATIONS
This is an in-person event held at a NYC DOE facility. We did not offer Schoolfest last year because we believe that the unique value of Schoolfest lies the opportunity to meet a diversity of educators and schools in person, and all school buildings were closed. We are delighted to be back this year with thoughtful safety procedures.
Exhibitors will be spread out in the cafeteria and gym, two very large rooms to allow for adequate social distancing.
Attendees will sign up for timed-entry tickets, that will enable them to stay in the building for two hours: a one-hour workshop followed by an hour to meet the exhibitors. We will thereby control the capacity and traffic flow in the building.
To enter the school building, everyone who is 18 years or older, must be vaccinated.
School safety agents will check proof of vaccination, take temperatures and accept covid-health forms at the entrance.
While in the building, everyone must wear masks.
We ask for everyone's cooperation for your safety and ours.